How to choose this product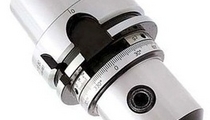 HSK tool holders are designed with a special taper which contacts the machine spindle on two surfaces. They are used for high-speed milling (HSM) operations.
Applications
These devices are used for milling operations requiring very high spindle speeds (>8,000 RPM). They are commonly used in the automotive and aerospace industries.
Technologies
The specially tapered shank of these holders connects to the machine spindle in a way that permits greater clamping force.
How to choose
When selecting an HSK tool-holder, be sure to determine the type of material being cut and the type of cutting operation, such as roughing or finishing.
Advantages
- High-speed machining
- Rigidity
- Faster tool change