How to choose this product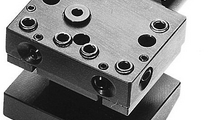 Lathe tool holders are used to hold cutting tools designed for lathe turning operations. Lathe tool holders must not be confused with lathe tool bit holders, which simply hold the cutting inserts.
Applications
These devices are found on all types of lathes: bench, turret, multi-spindle, computer numeric control (CNC) and Swiss lathes. They are suitable for operations such as turning, roughing, finishing, grooving, boring and threading.
Technologies
Such tool holders have different mounting configurations, depending on the machine type and tool post. They also can include a through-coolant system for the cutting tool and workpiece.
How to choose
When selecting a lathe tool holder be sure to determine the lathe's mounting type (e.g., VDI).