How to choose this product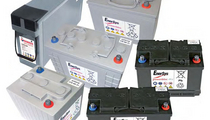 The lead-acid battery remains the most common type. It is inexpensive, uses proven technology and can be nearly entirely recycled.
Applications
These batteries are used where space is not an issue, for example, for vehicle starting, pulling loads, photovoltaics and backup power sources.
Technologies
Lead-acid batteries have relatively low energy density, but are subject to little self-discharge or memory effect and offer high output. However, they are not capable of rapid charge-discharge cycles and should not be drained completely. The electrodes, or plates, are immersed in a weak sulfuric acid solution.

Open, wet-cell models are durable and inexpensive. However, water must be added to the cells regularly through openings at the top. These same orifices vent generated hydrogen. Such batteries are dry upon acquisition.

Sealed, valve-regulated lead-acid (VRLA) models use a gel electrolyte or absorbed gas mat (AGM) system. There is no water loss, since generated gas is reconverted into water, though there is also a safety valve to vent excess gas. They have a shorter lifespan than open batteries and are more heat-sensitive.
How to choose
Choice of lead-acid battery will depend primarily on its technology, its nominal voltage and storage capacity in ampere-hours (Ah).
Advantages
- Inexpensive
- Low self-discharge
- No memory effect
Disadvantages
- Bulky
- Generates gas
- Open models lose water