The Online Industrial Exhibition

monitoring software
NCSIMUL MONITOR
NCSIMUL MONITOR returns machine status, either manually from the NC console or automatically. It delivers native support for OPC, the international interoperability standard for industrial automation. This means that ...

... Automation for recording trains, controlling gates, safety equipment etc. Fast and reliable disposition of vehicles Video monitoring of train movements Operating data capture Shorter service lives at the ...

... the information needed to proactively control processes and prevent quality problems before they occur. Real-Time Monitoring Software from InfinityQS brings the ability to: Keep in front of any problems ...
See the other products
InfinityQS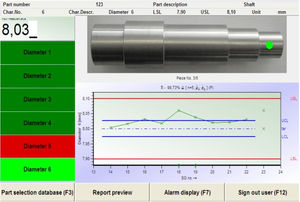 monitoring software
O-QIS
... or in the metrology lab in their quality evaluation and assessment tasks. The software package covers fields like standard statistical process control, online alarm monitoring, online visualization and ...
See the other products
Q-DAS Inc

monitoring software
safeethernet
All over the world, more and more decentralised, distributed automation concepts are being put into place – including in the field of safety related automation. HIMA developed the safeethernet protocol 16 years ago in order to network ...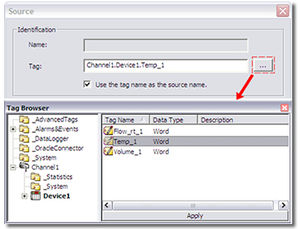 ... and Occasions connect-set for KEPServerEX might help lessen charges and enhance overall performance. OPC AE customers can monitor and receive procedure security alarms, owner measures, informative emails and keeping track ...

human-machine interface software

monitoring software
Fuji Flexa
Features automatic converters for various formats of CAD data. You can verify program data offline before sending it to the production line. Recording actions with macros is supported, which reduces the work required for operations ...
See the other products
Fuji Machine

monitoring software
3DLevelManager series
APM's 3DLevel Manager Software system manages and calibrates APM 3DLevelScanners S/M/MV. It is capable of reading all measurements from the 3DLevelScanner, including a 3D profile display on the surface area.

monitoring software
MaxTalk
The MaxTalk is manufactured by SolarMax, and is a data communication that can be connected to the inverter by means of Ethernet or RS485. It has a simple interface with clearly labelled tabs, and is capable with various languages such ...

monitoring software
InverTS
... MPEG-2 TS encapsulated by a DVB-T2 Gateway.Reverse DVB-T2 Gateway function with multiple PLP support Reuse legacy monitoring tools to monitor T2MI signal TS processing (splicing, logo insertion, …) from ...

management software
GOOMIX
... digital manufacturing software for the industry specialized in the dosing and mixing of materials. It's the first innovative SCADA platform (Supervisory Control And Data Acquisition) WEB made in Italy which allows the ...

monitoring software
SolarEye
... micrometer and passed on to the handling system. Apart from these special commands, all instructions of the EyeVision Software are available to the user. In connection with the EyeSpector® 4300EL we developed a special ...
See the other products
EVT Eye Vision Technology GmbH

... Personal Computers with the following Hardware and Software features: Emulator Mode: Emulate Automata HMI interface in windows environment. No connection with a target panel is needed. Supervisor monitoring: ...

monitoring software
GeoDAS
... most comprehensive, intuitive and versatile features available in the earthquake, seismic, structural, dynamic and static monitoring and measuring industry. Fundamentally the program is used for instrument configuration ...

programming software
LinkManager Mobile
... an iPhone, iPad or Android device, ideally suited for operators / end-users to remotely access their Universal Robots for monitoring status or perform typical operator tasks. LinkManager Mobile supports two factor authentications ...

monitoring software
PreVision Control
... system-independent hard and software solution for intelligent monitoring and controlling of industrial computers. The combination of an independent hardware module with USB interface and specially developed ...

monitoring software
AquaViewer
... either directly connecting to YSI instrument via Xport device or via communication connection to a PC running AquaManager PC software.

monitoring software
IntelliPro®
The IntelliPro monitoring and controls system combines the process monitoring power of a Supervisory Control and Data Acquisition (SCADA) system with unparalleled reliability through integrated comparative ...

quality software
GUARDIAN™
... & support product, giving peace of mind at a very affordable price. Datacolor GUARDIAN is the ultimate remote instrument monitoring solution; a unique predictive maintenance program for Datacolor's spectrophotometers ...

storage system management software
ASIDC
Software for automated system of individual dosimetry control Monitoring and evaluation of the absorbed doses of the staff Data storage on a central server with an option of remote access to the database, ...

data management software
FacilityPro®
... performed by the software. This design approach increases system reliability and data integrity. FacilityPro software is available in two main versions: FacilityPro SCADA Server software ...
See the other products
Particle Measuring Systems

management software
OfficeServ ACD Call Centre
... Queue prioritisation and skill based routing Customisable completion codes and agent break reasons Real time monitoring, call tracking and historical reporting Soft wallboard and text messaging facility ...
See the other products
Samsung Communications

security and access control software
VISOR LIGHT
+ Access control, Video and Intrusion supervision software. + SQL Server/Access database + Web Management + Video Interface + No Dongle required
See the other products
Vauban Systems

... FSP Network Manager is a user-friendly network management system that provides end-to-end configuration, management and surveillance of networks built from ADVA FSP and OSA network elements. The system offers reliable, ...