The Online Industrial Exhibition

security and access control software
VISOR LIGHT
+ Access control, Video and Intrusion supervision software. + SQL Server/Access database + Web Management + Video Interface + No Dongle required
See the other products
Vauban Systems

... FSP Network Manager is a user-friendly network management system that provides end-to-end configuration, management and surveillance of networks built from ADVA FSP and OSA network elements. The system offers reliable, ...

monitoring software
StecaGrid Portal
The coolcept inverter works on plug and play system. Its ethernet interface is connected to a router to directly transfer the inverter's data from the data logger to the StecaGrid Portal. The portal can be easily setup with the link to ...
See the other products
Steca

vibration analysis software
DREAM E
Complex of automatic vibration monitoring and technical diagnostics Dream is used for mass data processing and for transition to condition-based maintenance: Automatic diagnostics and condition forecast of industrial ...
See the other products
Association VAST

monitoring software
Veronte Pipe
Cross-platform software (Windows, Linux, Mac OS) Intuitive, easy to use and dependable Customizable to your needs Configure the system Veronte Create and edit missions Monitor flight information Action ...

statistical software
Italarm
The monitoring and supervision of production processes are becoming requirements perceived by an increasing number of companies. TQM Itaca Technology has developed the ITALARM software application for ...

monitoring software
InkPerformer
Monitor and optimize ink consumption Improve environmental impact Rapid return on investment Multiple ink saving levelsInkPerformer promises users the power to monitor and optimize their ...

DSP Machinery Control Software for WRM DSP Machinery Control software is designed for the organization and visualization of remote measurements delivered by remote monitoring WRM equipment. ...

monitoring software
SmartSCADA
smartSCADA is an integrated monitoring solution for machines and is already integrated in HST products. It allows for transparency and the assessment of operating and fault data, remote access and control intervention. ...
See the other products
HST Systemtechnik GmbH & Co. KG

spectrum analysis software
SPECTRUM Suite
... system - Allows real-time monitoring and generate SNMP and SMTP alarm traps - Displays a large number of carriers (100+) on a single or multiple monitoring panels - Able to make the following ...
See the other products
LP Technologies, Inc

monitoring software
TecView™ Motion
TecView™ Motion is a Windows® based software designed to perform axis displacements of scanners. This motion software is specially intended to be used for applications that require precise probe displacement ...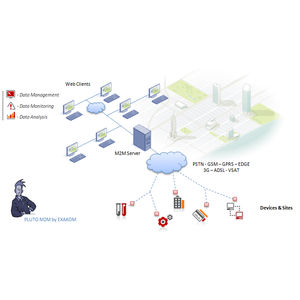 asset management software
PLUTO M2M
... combining reliables remote telecontrol units and a web-based enterprise application providing all together CONTROL, DIAGNOSTIC, MONITORING and Data ANALYSIS. Millions of devices are deployed worldwide to provide customer ...

analysis software
Easy nEXt
... operate by non-skilled operators for both simple and complicated elemental analysis tasks. The Easy nEXt is an advanced software package with strong abilities. The user-friendly system enables any operator to perform ...
See the other products
Xenemetrix


monitoring software
SICES SUPERVISOR
SICES SUPERVISOR The supervision software can be merged to a Sices regulator for offering a low-profile and instinctive system for remotely regulating all the status, standards and calculation functions of a single or ...

2 types of view: log view (call data log) or simple view. 2 types of version: stand-alone [comes with RS-232 or SPU/SR-330_PC] or network version [chargeable]. Able to register call bells with a short memo. Transaction data is saved ...

monitoring software
Gostai Lab
... drag and drop on a customizable layout. You can then export your interface as an application to remote control a robot, monitor sensors, cameras, or use the console to directly send urbiscript commands to your system. ...

monitoring software
SurvCe
STONEX Surv CE is a customized version of the worldwide well known Carlson Surv CE, dedicated to the STONEX GNSS receivers and Total Stations. The current Release is mostly dedicated to the advanced features of STONEX S10 GNSS, such ...

monitoring software
iSub™
An open-phase condition can be simulated and studied by placing a graphical icon on the one-line diagram at the terminals of branch elements. The UBLF program would open a phase (A, B, C) and run the unbalanced load flow study for a steady-state ...

monitoring software
RVSTD*
Energy Benchmark between plants for Power Saving Benchmark Alarms between plants for plants optimization HACCP centralized documents generation for product Quality

monitoring software
ACOS ECS
ACOS ECS is an energy accounting tool which considerably facilitates the controlling of energy consumption. Faults and fault statuses can be discovered and eliminated timely thanks to automatic checks for completeness and plausibility. ...

monitoring software
Lantek Wos
... ensure that all decisions are made based on accurate data. Workshop Operating System (Wos) is a system for the control and monitoring of production, designed for companies working with sheet metal. It provides you all ...

The Condition Monitoring Center ibaCMC is a high end web-based desktop application for trending, alarming and reporting tasks. The only piece of software needed on the client side is a web browser. ibaCMC ...
See the other products
iba AG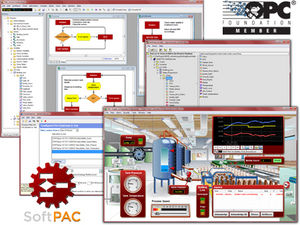 sharing software
PACPROJECTPRO
The PAC Project Software Suite from Opto 22 provides all the software you need for industrial automation, remote monitoring, and data acquisition applications in any field. One of four ...
See the other products
Opto 22

monitoring software
Insight
... Insight is a data management software from Casella. It provides Health and Safety professionals with an updated solution for downloading, managing and reporting exposure data for various occupational hazards. The software ...

ADPRO SmokeTrace, a downloadable software application for the FastTrace 2/2E Remotely Managed Multi-service Gateway (RMG), provides remote visual verification of smoke. The analytic is designed to provide reliable visual ...