How to choose this product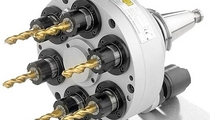 Multi-spindle heads offer simultaneous drilling, milling, boring and tapping capability for complex machining operations.
Applications
These devices are used primarily for high-volume manufacturing processes, such as in the automotive industry. They are mounted on specialized drilling machines, CNC milling machines and on transfer lines.
Technologies
The number of spindles varies greatly. Some manufacturers offer heads handling from two up to 100 spindles. They also are designed to fit all types of spindle tapers, including ISO, CAT®, BT, DIN and HSK.
How to choose
Be sure to determine information such as spindle speed, taper type, torque and coolant options when selecting a multi-spindle head.
Advantages
- Improved production cycle times
- Reduced production downtime