How to choose this product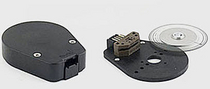 Optical encoders convert angular or linear movement into an electrical signal through the use of an optical sensor. They indicate position, movement, direction and displacement in both rotary and linear applications.
Applications
Optical encoders are found in many motion control applications, such as motion control of motor shafts. They can be found in coordinate measuring machines and positioning and measuring devices for medical applications.
Technologies
Optical encoders measure angular and linear movement through the use of an optical light source and photo detector. This light source can either be reflected or transmitted through a coded disk or scale to indicate an incremental or absolute position.
How to choose
Be sure to consider details such as speed, resolution, length and other constraints when looking at optical encoders.