The Online Industrial Exhibition

For measuring & monitoring the oxygen concentration in process gases Chemical industry Recycling Recycling of cooling appliances Environment Pharmaceuticals industry … and other fields Measurement ...
See the other products
Fresenius Umwelttechnik GmbH

oxygen analyzer
O2 – Control
Online measurement system for continuous monitoring of oxygen content in hot process water With O2 – Control the residual oxygen content of process water in the range of 0.001 mg/l ...
See the other products
OFS Online Fluid Sensoric GmbH

air analyzer
Handy Atmosphere
... Atmosphere is a hand-held meter designed to measure oxygen in gas. It can be used to measure the low oxygen content of packaging gas, the oxygen content of the air and the purity of oxygen ...
See the other products
OxyGuard

oxygen analyzer
Model 320WP
The Nova 320 Series of Portable Flue Gas Oxygen Analyzers utilize a reliable, stable oxygen sensor which responds quickly to the oxygen present in a flue gas sample. ...
See the other products
Nova Analytical Systems

biogas analyzer
SWG100 Bio
... Description The SWG100 BIOcompact is a cost effective fixed biogas Analyser ideal for use on AD plant and water treatment plants. The biogas analyser can be configured to measure Oxygen ...
See the other products
Eurotron Instruments UK ltd

Gasmet 19" frame analyzer with microprocessor technology has the ZrO2 cell inside and can be used for O2 measurement in CEM II or EEMS cabinets or as a portable analyzer. Together with ...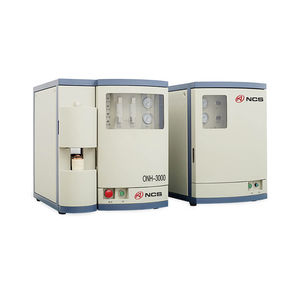 oxygen analyzer
O-3000 / N-3000 / H-3000 / ON-3000 / OH3000 /ONH-3000
... quantity are not limited; 6. Various analysis modes, measuring the total oxygen content, total nitrogen content and total hydrogen content in the samples as well as the oxygen content in various oxides ...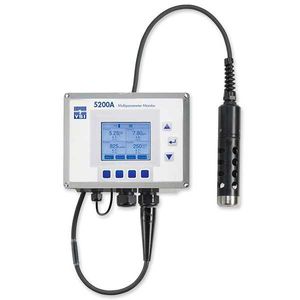 multi-parameter analyzer
5200A
Along with the AquaManager® Software, the YSI 5200A Continuous Monitor is designed for recirculating aquaculture systems. It can be utilized to integrate process control, feeding, and data management. The instrument contains a multi-parameter ...
See the other products
YSI Life Sciences

Portable Trace Oxygen Analyzer Precision Electrochemical Sensor Technology Large Color Display w/ User Friendly Menu 5 Standard Analysis Ranges Auto-Ranging or Manual Range Mode Continuous Analysis ...
See the other products
Southland Sensing

● Simultaneous measurement of up to 11 items (pH, DO, conductivity, turbidity, temp., salinity, total dissolved solid, specific gravity of sea water, water depth, ORP, chlorophyll, Ions(F-, Cl-, NO3-, Ca2+, K+, NH4+) ● Continuous measurement ...
See the other products
DKK-TOA

concentration analyzer
E1
The portable analyser E1-ANALYZER is an innovative instrument suitable for measuring easily, quickly and precisely the fume and gas emissions in industrial plants. It allows to determine the concentration ...

... or factory use. The Dissolved Oxygen and pH sensors are designed for maximum durability in field and factory environments. 24 Character Alphanumeric Display The two-line, 24 character display shows the Dissolved Oxygen ...
See the other products
TPS

oxygen analyzer
ELEMENTRAC OH-p
... IR cells with different measuring ranges so both high and low oxygen levels can be measured. Hydrogen and oxygen concentrations are determined simultaneously. Benefits: + simultaneous oxygen/hydrogen ...
See the other products
Eltra GmbH

This analyzer will measure trace amounts of oxygen.The Setnag JC48V uses a zirconia sensor.It is designed for analyzing and measuring pure gases and mixtures that do not contain CO and ...
See the other products
Cleanair Europe

gas analyzer
CANAL 111 II
The CANAL111 II is a portable O2 analyzer that is available in rechargeable battery. The unit utilizes a suction pump for gas sampling, thus making it easy to use. Compact and light analyser ...
See the other products
VIGAZ

... OUR (Oxygen Uptake Rate) and SOUR (Specific Oxygen Uptake Rate) are also valuable process control tools because they indicate the biological activity of microorganisms used in treatment. Features: ...
See the other products
YSI Life Science

Measure dissolved oxygen (DO) concentration and temperature of aquatic environment. DO probes work for both, laboratory and field use. May be used in BOD measurements. Convenient and accurate measurements ...
See the other products
VZOR

... both compliance monitoring of diluent gas (Environmental Compliance) and Oxygen monitoring for combustion and process control applications. The SM®425 offers state of the art oxygen analysis and a rugged ...
See the other products
Teledyne Monitor Labs

The IMR 5000 is a flexible and inexpensive stationary flue/Stack exhaust gas analyzer from IMR®. Developed as a single or multi-gas detection system, the IMR5000 can be integrated into existing analysis systems. The ...
See the other products
IMR-Messtechnik

sulfur analyzer
Wöhler A 550 Industrial
Exceptional features combined with powerfully tough design will make any industrial emission testing as simple as possible. The analyzer comes standard fully equipped with all sensors including O2, CO, NO, NO2 and SO2 ...
See the other products
Wöhler

ozone analyzer
61101 series
Process gas analyzers for O2, O3, CO2, H2 and N2 This process analyzer complements Dextens O2, O3, CO2, H2 and N2 sensors. It continuously measures the gas concentration, the temperature, and provides ...
See the other products
Dextens

Galvanic In-situ Oxygen Gas Detector Analyzer (Panel Mount) - G1010 - Exceptional high performance dynamic range for oxygen analysis - Single point calibration - ...
See the other products
Hitech Instruments

water analyzer
SensoDirect 150
Multi Parameter Hand-held Meter for the measurement of Dissolved Oxygen (O2) O2 Concentration in mg/l, Conductivity, TDS, pH, ORP and °C/°F Highlights pH/Redox, Conductivity, Dissolved Oxygen ...
See the other products
Tintometer - Lovibond

oxygen analyzer
SensoDirect 150
... Dissolved Oxygen, Temperature °C/°F * All in one * Real time data logger * Protective casing * RS 232 / USB Description The SensoDirect 150 is designed for multi purpose operation and measures ...
See the other products
Tintometer

... its calculations. Self Supervisory Diagnosis : Continuously checks the status of: 1) Battery Voltage 2) Sample Flow 3) Oxygen Sensor
See the other products
Endee Engineers Pvt.LTd