How to choose this product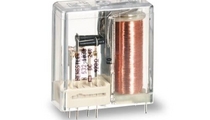 A printed circuit board (PCB) relay is an electromechanical or solid-state (semiconductor) relay soldered to a board or plugged into another element soldered to the board, with or without a retaining clip.
Applications
Relays are used as signal or electrical power line switches.
Technologies
The electromechanical relay contains a coil which produces a magnetic field when energized. This induced field shifts movable contacts, opening or closing a circuit. The contacts are normally open (NO) or normally closed (NC). The leads are marked to indicate common, open or closed function. The relay may be multi-polar with several channels. Monostable relays return to the default position when current is cut, whereas bistable models require an additional command for this operation.

Low-profile relays are small models. Miniature relays use a specific technology including an induction lamp (ILS) with a spring blade. These integrated circuit devices are better known as reed relays.

In solid-state (semiconductor) relays, the active element is usually an optocoupler, which ensures galvanic isolation between the control and switching elements. A weak control current is sufficient for activation. The power circuit is a thyristor, a gate turn-off thyristor (GTO) or an integrated gate bipolar transistor (IGBT).
How to choose
Choice will depend on current load, control voltage, contact configuration and number of poles.
Advantages
- Galvanic isolation