How to choose this product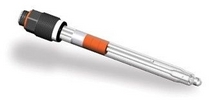 A pH electrode is a glass or metal probe used to measure hydrogen ion activity. A combination electrode includes the reference element.
Applications
The glass electrode is attached to a pH meter to measure the pH of organic or mineral substances or solutions, or of biological or water samples.
Technologies
The glass electrode has a very thin-walled tip and contains a saturated solution of potassium chloride. The membrane potential differs from that of the reference electrode, a function of the solution's pH. A combination electrode incorporates the reference element, often a silver wire covered with silver chloride. The wire constitutes a redox couple or half cell.

The glass electrode loses accuracy over time and must be recalibrated periodically using a buffered solution of known pH (pH 4, pH 7 or pH 10). It is also stored in a special solution when not in use. Some models require regular replenishment of the saturated solution. At high pH, other cations, especially sodium and lithium, can affect measurements (alkaline error). The electrode should never be left in a concentrated sodium solution.
How to choose
Combination glass or metal electrodes are usually chosen for laboratory measurements. Other options include flat and penetration electrodes, and insertion or immersion models for field use. The nature of the material to be tested may require use of a double- or triple-junction electrode.