Quick-change tool-holders
35 companies | 63 products
How to choose this product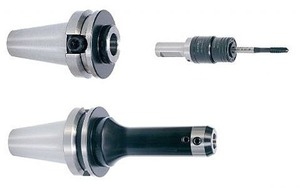 Quick change tool holders provide easy switching of cutting tools on both milling and turning machines.
Applications
These devices can be used on milling, drilling and turning machines for tapping, drilling, boring, milling and cutting. They are ideal for applications where production costs are high and machining cycle times are limited.
Technologies
Such holders used on lathes are designed so that the tool can be changed in a single manual operation.
How to choose
Choice will depend on spindle type and other machine characteristics.
Advantages
- Reduces production time