How to choose this product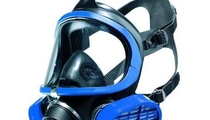 A respirator is worn to prevent inhalation of toxic aerosol particles or pathogens. A full-face mask protects the entire face.
Applications
These devices are used in the textile industry, metallurgy, mining, construction and public works, the iron and steel industry and during welding. They protect hospital personnel against microbes.
Technologies
Respirators block the entry of gas and dust. They can be single-use or have one or two replaceable filter cartridges. Half-face versions cover only the mouth and the nose, while full-face models cover the entire face. The presence of valves makes breathing easier.

Positive-pressure masks assist breathing and keep particles out. Air flow is produced by a fan and filter arrangement, supplied from a compressed air tank worn by the user or from another air source.

Aerosol filters are designated P1 to P3, depending on efficacy. The labels R and NR indicate whether the mask is reusable or not. The letters on gas filters show the type of gas they protect against. There are three different levels of absorption.
How to choose
Choice will depend on the type and level of protection offered by the filter, and the possible need to cover the entire face.