How to choose this product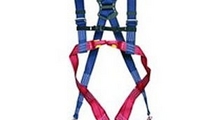 Safety harnesses are designed for fall-protection, work at height, work on ropes and for tree pruning.
Applications
Applications mostly concern work at height, such as roof repairs, facade construction, as well as many other potentially perilous activities.
Technologies
In contrast to fall arrest harnesses, safety harnesses are designed to maintain wearers at their work post. The retaining loops are situated on the sides, at mid-body level.
How to choose
Before choosing a safety harness, verify that it meets the needs of the application. Harness class must correspond to the activity type:
- Fall arrest
- Suspension and controlled descent
- Enclosed space
- Remaining in position at the work station
- Work on a ladder

For optimum safety, the harness must be certified (EN 358 norm).

Harness ergonomics play a particularly important role; they must offer optimum comfort to the user, who may wear the harness for anywhere frrom several hours to an entire day.
Advantages
- Optimum protection in case of a fall
- Safety
- Comfort
- Ergonomically sound