How to choose this product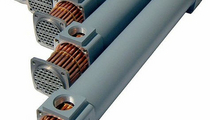 A shell and tube heat exchanger transfers the heat stored by a fluid to another fluid, without mixing them. It is composed of a tube bundle placed inside a cylindrical container (the shell).

One of the fluids circulates inside the tubes, the other inside the shell and around the tubes. Baffles can be added to channel the flow, increasing heat exchange.

Circulation in the tube bundle can occur in one or several passes thanks to header boxes situated at the bundle's extremities.
Applications
Shell and tube heat exchangers are used in many industrial processes to heat or cool a fluid.
How to choose
Choice of exchanger size and configuration involves many parameters, including the fluids' physical properties and temperatures, the flow rate and the energy to be exchanged.
Advantages
- Elevated pressures
- Power range
- Temperature differential
Disadvantages
- Difficult to clean