How to choose this product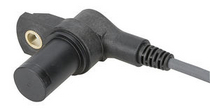 Speed sensors can measure the rotational speed of a wheel or shaft. When referring to speed sensors in industry, it is usually the rotary speed which is being measured. There are also laser-based speed sensors which use triangulation or time-of-flight measurement.
Applications
Speed sensors are mounted on rotating parts in machinery in order to either measure or control operating speed. They also can be used as tachometers to measure the revolutions per minute of a motor.
Technologies
Speed sensors most commonly use a Hall effect sensor to measure rotational speed. The sensor is mounted close to the rotating part, which consists of a magnetic ring.
Laser-based speed sensors measure by triangulation or the time-of-flight measurement principle.
How to choose
Be sure to determine the maximum operating speed when selecting a sensor. The maximum frequency in Hz will indicate the resolution of the sensor and its maximum measurement speed.
Advantages
- Non-contact measurement