Superluminescent LED
How to choose this product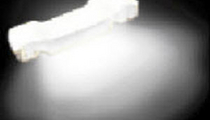 A superluminescent LED (SLED) uses the principle of superluminescence to produce light. It combines the high intensity and brilliance of a laser diode with the non-coherence of a traditional light-emitting diode.
Applications
SLEDs were developed for fiber optic gyroscopes and medical imaging via diffuse optical tomography. They now are also used in fiber optic communications as external cavities in tunable lasers.
Technologies
Superluminescence is an amplified spontaneous emission of photons. This is similar to lasers, but without the spatial coherence. In other respects, they resemble ordinary LEDs.
How to choose
A SLED is chosen when there is need for a high-intensity, non-coherent light source.
Advantages
- Low spatial coherence
- Powerful
- Low power consumption
2
companies |
5
industrial products
Extend the search
Search by manufacturer
Search by catalog