How to choose this product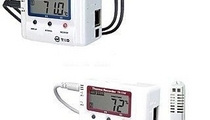 A temperature data logger stores successive measurements in its memory. Data are retrieved via a direct connection to the instrument or a network interface, which can be cabled or wireless.
Applications
These devices are used in the food industry to monitor products in storage or in transit. They are also found in supermarkets, construction, the pharmaceutical industry, in hospitals, industrial processing and in the chemical, energy and environmental sectors.
Technologies
The logger is powered by battery or connected to house current. Data recovery is via USB or serial port, Ethernet packets or radio waves.

There are usually buttons, an LCD screen and alarms to indicate that a preset minimum or maximum level has been exceeded. The time between measurements can be programmed and the device can calculate averages. An internal clock and electronic calendar time and date the measurements.

The instrument uses a platinum RTD sensor or a thermocouple probe, either integral or added on. In general, there are calibration, linearization and cold-junction compensation options for a thermocouple probe.
How to choose
Temperature loggers are characterized by their measurement range, resolution and precision, and by the number of measurements they can store. Choice will also depend on sensor type, power source and data retrieval method.