How to choose this product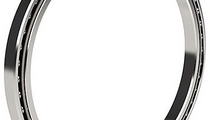 Like traditional ball bearings, thin section versions are composed of two races and a row of rolling elements. They are made of ordinary or stainless steel. Angular and even four-point contact models are available. Some manufacturers offer custom design.
Applications
Heavily used in mechanical assemblies requiring compact rotational guidance, these bearings are commonly used in precision robotic machinery, as well as semiconductor, measurement and radar equipment.
Technologies
Thin section bearings are made of two thin races holding a row of ball bearings. Load capacity depends configuration: angular contact, four-point contact, etc. Aluminum, steel and stainless steel are used to manufacture these bearings, which can be pre-lubricated, with or without an integrated seal.
Disadvantages
- Limited load capacity