How to choose this product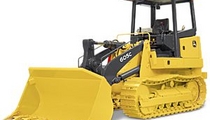 The track loader is a piece of construction equipment riding on hydrostatically driven tracks and with a large front-mounted bucket. The tracks provide good traction, especially on soft or muddy ground, and are sturdy enough to operate on rough ground that might damage rubber tires.
Applications
Track loaders are used to move loose material or to load it onto a truck or a conveyor.
Technologies
The track loader is characterized by the use of hydrostatic drive to activate the tracks. This provides excellent maneuverability, including the possibility of turning in its own length. The diesel engine usually is placed in the rear to provide better forward visibility and to act as counterweight to a full bucket.
How to choose
Choice depends on three factors related to the machine's size: service weight, engine power and bucket capacity.
Advantages
- Multiple uses
- Traction
Disadvantages
- Relatively slow