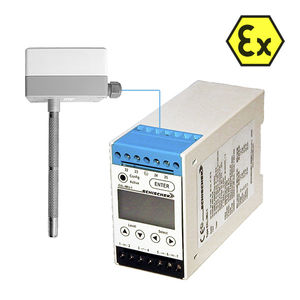 1 photo
pressure transducer / humidity / temperature / ATEX IP40 | EXL-IMU-1

Transducer type EXL-IMU-1 with intrinsically safe circuit to change a passive sensor signal into an active mA/VDC signal. Connection of a passive, potential free, modulating sensor series ExSens for temperature, humidity or pressure measuring (also combinations possible). Transducer EXL-IMU-1...

1 photo
level transducer / for steam / for liquid / analog
Technical Performance Application object: liquid, gas or steam Measurement range: referred to the selection table Output signal: 4~20mA DC output, integrated with digital signal of HART protocol Power: external power, 24V DC, volt range: 12V~ 45V Introduction The 3151TLT liquid level transducer adopts static pressure principle to measure the liquid level, which is applied in industry...

2 photos