How to choose this product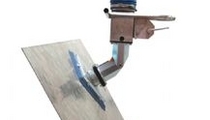 Vacuum tube lifters facilitate the transfer of heavy products or goods by an operator in a workshop or industrial setting. Attached to an overhead crane or manipulation arm, the lifters have a retractable tube linking the crane or arm to one or more suction pads which attach to the product. This arrangement offers operator comfort without damaging the goods.
Applications
These lifters can be found in industrial environments and/or workshops. In conjunction with manipulation arms or overhead cranes, they represent an easy way to transport heavy goods, including stone panels and slabs, boxes, glass panels and kegs.
How to choose
Application specifics, including the weight of the goods to be transported, will determine the vacuum tube lifter to choose and the number of pads required.