How to choose this product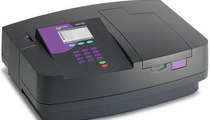 A spectrophotometer measures light intensity as a function of wavelength. The visible-light spectrophotometer performs these measurements in the visible segment of the spectrum (340-750 nm).
Applications
A spectrophotometer measures a material's light reflection, transmission or absorption properties. In chemistry, a solution's absorbency indicates the nature and concentration of its solutes. Spectral analysis of light reflected from a surface yields a more precise measurement of its color than does an RGB colorimeter.
Technologies
The visible-light spectrophotometer uses a light source emitting in the visible spectrum, usually a halogen bulb. The two main types are the single-beam, which requires prior calibration using a standard control, and the double-beam, which simultaneously measures the sample and the standard control.
How to choose
The type of measurements to be made will define the range of wavelengths to be used.