How to choose this product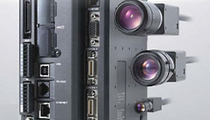 An industrial vision system is a group of cameras linked to a computerized treatment unit via a high-speed network (Ethernet).
Applications
Applications for these systems are numerous. Their powerful, computerized data-processing unit linked to the cameras analyzes complex situations and makes decisions and acts via automatons and automatic programming interfaces (API). For example, they can sort a group of coins and discard the faulty ones.
Technologies
Vision system power keeps increasing with the image quality of high-resolution and high-speed cameras (CCD and CMOS). In addition, increasing computer power has resulted in faster, more complex image-processing capability.
How to choose
A vision system is chosen over vision sensors when computing power is the determinant factor. Camera quality is the next criterion (resolution, sensitivity and speed). Finally, the integrated software must be easy to use and facilitate programming of the entire system.
Advantages
- Computing power
Disadvantages
- Uses more fragile cameras