The Online Industrial Exhibition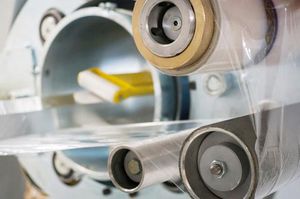 orbital wrapping machine
COMPACT
... ideal thing if it is to be combined with automatic devices such as loaders, unloaders, packing machines to provide uninterrupted, continual work flows. If material such as paper or plastic is used, the automatic ...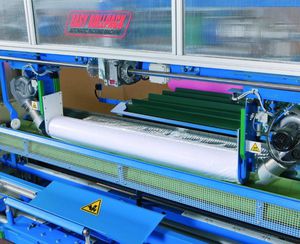 horizontal wrapping machine
EASYROLLPACK
- Production 100 rolls/hour - Introduction: manual or automatic - Working width Min. 1000mm – Max 2000mm - Diameter roll Max. 450mm - Weight roll Max. 60 Kg - Longitudinal closing: Double, with electrical welding - Lateral ...
See the other products
LA MECCANICA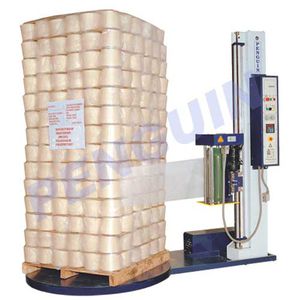 turntable stretch wrapper
Classic
Rotational speed: 1 rpm - 10 rpm
The Penguin Stretch Wrapping Machine is a fully automatic machine for wrapping pallets using stretch cling film. This machine is used in many countries for wrapping ...
See the other products
Penguin Engineers
turntable stretch wrapping machine
PROWRAPP Series
... need for direct supervision by people. Powerful Up to 90 pallets per hour are possible. Technology Semi - and fully automatic pallet stretcher as pallet securing systems.
turntable stretch wrapper
M019
... product ergonomically. After control, the operator sets the wrapping wedges and accessories. For stretch-wrapping, he sets the stretch wrap in the corner of the window sash. The window sash makes several ...
horizontal wrapping machine
EP WM1300
Length: 1,300 mm
... Feeding Easy Shrink Film Changing Spare Shrink Film Feeding Unit Product Feeding Unit with Speed Control Unit Automatic Cutting and Sealing Usable Shrink Film: PE Operating Air Pressure: 6-8 Bar ...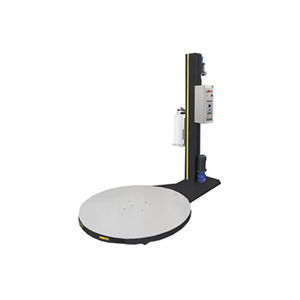 turntable stretch wrapper
PATRIOT
Width: 50 in
Length: 50 in
... selection of Turntable and Tower options, The PATRIOT can be configured to handle oversized and tall loads. As with all Stretch Wrappers, the PATRIOT is manufactured using quality materials and components.
rotary arm stretch wrapper
Rotax S5300
Rotational speed: 4 rpm - 15 rpm
Height: 2,100, 3,000 mm
Width: 1,200 mm
Automatic packaging line with rotating arm wrapping machine. Product stabilization with top press. Motorized pre-stretch. Automatic roll conveyors controlled by photocells. Protection ...
See the other products
EFFE3TI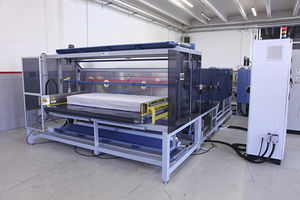 horizontal wrapping machine
Height: 80 mm - 300 mm
Width: 70 cm - 200 cm
Length: 190 cm - 220 cm
Automatic wrapping machine WRAPPING MACHINE is the last new machine born in 2013 to pack mattresses in polyethylene film. Our wrapping ...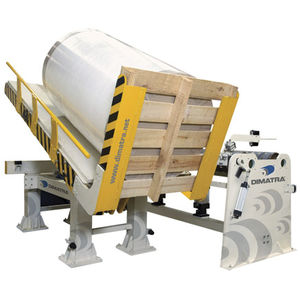 automatic wrapping machine
... . Also, when cut rolls are wrapped horizontally and must be placed on a platform, it is necessary to rotate them 90°. Wrapper This machine is used to wrap rolls. Rolls are placed on the machine and can be separated ...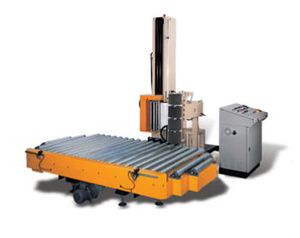 pallet stretch wrapper
max. 2 000 kg | ALPHA-HCA
Rotational speed: 2 rpm - 15 rpm
Height: 252 cm - 312 cm
Width: 257 cm - 287 cm
Joinpack wrapping machine offers exceptional quality and is able to house your packaging needs with a full line of partially automated wrapping devices. These user-friendly and low-maintenance ...
See the other products
Jia-In Industry
orbital stretch wrapper
LIGO-ORB/S
Height: 130 mm - 800 mm
Width: 130 mm - 800 mm
range semi-automatic machine with automatic film cutting through electric command pedal, movement produced manually by operator.
See the other products
Ligotech
turntable stretch wrapper
MDO Lite
The MDO Lite makes many a film processor's dream come true. By annealing and slightly stretching the film the MDO Lite renders flat, bagginess-free films needed for high-speed value added processes like lamination, siliconization, printing ...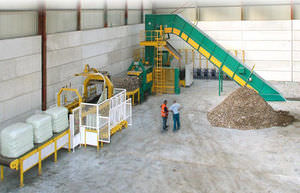 automatic stretch wrapper
The Automatic stretch wrapper, manufactured by Macpress Europa SL® is utilized for waste bales along with a plastic film that has the ability to wrap a ranges of 20 to 50 bales per hour. ...
turntable stretch wrapper
SWA series
Rotational speed: 0 rpm - 13 rpm
Medium Duty High Performance Semi-Automatic Stretch Wrap Machine User friendly touch-screen control center provides workers efficient control of the wrapping process. The state of the art digital control ...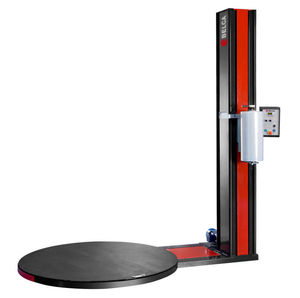 turntable stretch wrapper
BEX 100
Semi-automatic; all the operator needs to do is tie the end of the film to the pallet. Designed to work with forklift; it can also be embedded in the floor and used with any bulk handling device. There is also an option ...
See the other products
BELCA,
horizontal wrapping machine
... designed for coil machining functions on slitting platforms and blanks' bundles from cut-to-length rows. The system enables automated processing for a variety of procedural tasks, applied on carbon steels, stainless steels, ...
turntable stretch wrapper
Kamp
Standard accessories: Roller table for support Stretch film coil holder with electronic prestretch
turntable stretch wrapping machine
ROTO
This vertical wrapping machine is one of the most advanced models and is suitable for windowframes and doorframes. The mounting base is rotary and complete and comes with a roller conveyor, which makes ...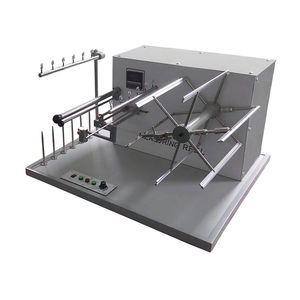 horizontal wrapping machine
HD-W807
... , T/T PriceFOB, CIF Automatic Wrap Reel For Textile PProduct description Automatic Wrap Reel is an ideal equipment to produce Skeins (lea/hank) of yarn for checking the yarn count and for lea ...