The Online Industrial Exhibition
horizontal wrapping machine
UKWRAP-S, UKWRAP-G
The overwrapping machine UKWRAP-S is used for the wrapping of a group of cardboard boxes (stacks). It is appropriate for the wrapping of different cosmetic, tobacco, food, office and other products. Characteristics of the overwrapping ...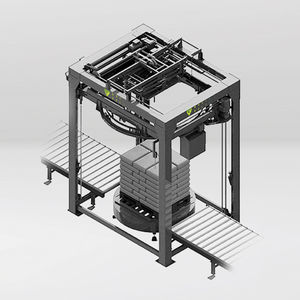 rotary arm stretch wrapping machine
... jerrycans and drums - Industries: Chemical, petrochemical, food, building material - Application: semi- and fully automatic load protection - Output: up to 60 pallets/h Our advantages - Only one ...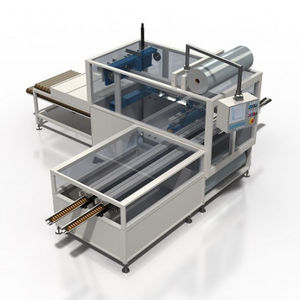 horizontal wrapping machine
TS 14 ST/AL
The TS14 Series, with a counting accuracy of +/- 1, is specifically designed to permit automatic wrapping through method of plastic micro-perforated film ends. Furthermore, this series of machines is capable of handling ...
See the other products
CLEVERTECH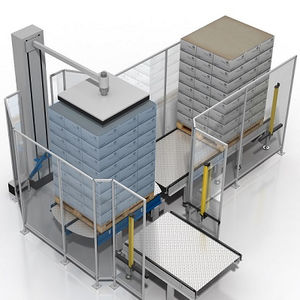 turntable stretch wrapper
PF 30
The PF 30 series is the fully automatic stretch wrapping machine with rotating platform that ensures steady and compact packing of any type of palletized product with stretch ...
See the other products
CLEVERTECH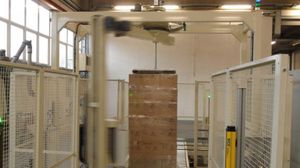 rotary arm stretch wrapper
PF 40
This fully automatic stretch wrapping machine with rotating arm, equipped with integrated top sheet dispenser, allows to obtain a packing all over the five sides of any type of palletized ...
See the other products
CLEVERTECH

fully automatic stretch wrapping machine
WSA
... wrap-stretch machines WSA: Gentle material-packaging in stretch-film Wrap stretch-film technology applies the principle of the circulating film roll with stationary pallet. They are ...
orbital stretch wrapper
Yellow Jacket
Rotational speed: 5 rpm - 20 rpm
Height: 95 in
Width: 93 in
The Yellow Jacket stretch wrapper was designed to do what other machines fail to do, which is, secure shipments and protect products in a manner that satisfies customers every time. Manufacturers quickly ...
See the other products
Muller
turntable stretch wrapping machine
FS35x
Height: 2,200, 2,500, 2,800, 3,200 mm
... advice you our FS35x series with operating panel two. Semi-automatic Stretch Wrapping Machines with multiple wrapping programs and multiple unique FROMM Patents. FROMM stretch ...
See the other products
FROMM
stretch film wrapping machine
V40
Description Automatic wrapping machine with modern "balcony" style construction suitable for wrapping small or medium sized parallelepiped products and non with film from reel. The STRETCH ...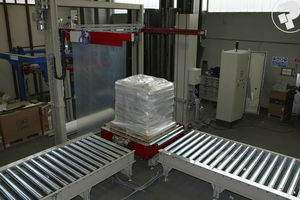 turntable stretch wrapper
Fully automatic stretch wrapping located directly after the palletizer ensure the stability of the pallet during the transport and storage. A cover film integrated in the line can provide a dust protection ...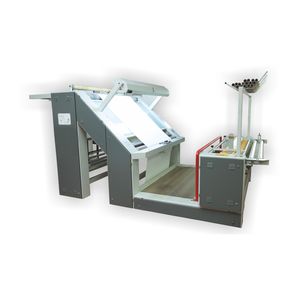 turntable wrapping machine
R.401-27
Fabric Control and Roll Wrapping Machine Technical Details It is a wide-screened machine for inspecting and rolling of flexible, knitting, lycra and lace fabrics. It is a machine for opening of tubular ...
See the other products
DEMAS MAKINE
turntable stretch wrapper
AccuWrapper
Rotational speed: 0 rpm - 12 rpm
Height: 99 in
Width: 99 in
Designed to work tirelessly under tough industrial conditions, the Accutek AccuWrapper gives customers a reliable powered pallet wrapping assistant that will increase efficiency and cut labor and film costs. They are easy to set up and ...
turntable stretch wrapper
Twinpack
Height: 2,500 cm - 3,300 cm
... strapping and wrapping combined What is TwinPack? The TwinPack is a combination of approved Cyklop machines. The GL 215 stretch wrapper and the XP 112 MVB strapping machine have been combined in the ...
See the other products
Cyklop
turntable stretch wrapper
max. 55 p/h | WCA-150
Height: 2,540 mm
Width: 5,055 mm
Length: 3,429 mm
The WCA-150 model assembled by Premier Tech Chronos, is an automatic turntable stretch wrapper that features a heavy duty system. This device is normally cheap than rotary arm models, ...
turntable stretch wrapper
FO
Height: 210 cm
... front and rear opening to load & move with fork lift Carriage belt driven with Film tension with EM-M mechanic clutch One Automatic working cycle with 1 wrapping programme: Carriage up + down Safety spatula below ...
See the other products
SIAT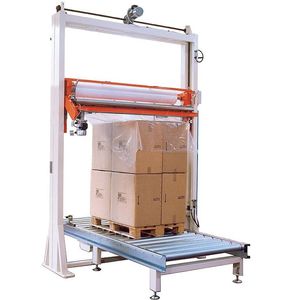 automatic wrapping machine
475
DUST-PROOF TOP-SHEET DISPENSER WITH PALLETS HEIGHT AUTOMATIC DETECTION The supporting structure is placed astride the in-feed conveyor of Wrapping machines such as: 095 – 101 – 115 – ...
See the other products
Tosa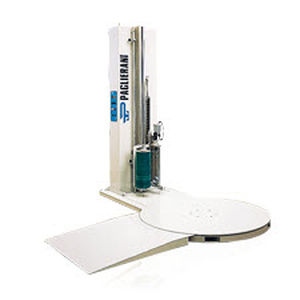 turntable stretch wrapping machine
AV 300 series
... philosophy to automatic pallet stretch wrapping / stretch hooding machines: Customized design and great construction know-how. Paglierani offers innovative solutions with rotating pallet ...
See the other products
Paglierani
turntable stretch wrapper
OW 1 / OW 2
These machines are designed for stretch wrapping of all kinds of cargo placed on pallets. Stretch protects cargo from getting dirty, disadvantageous atmospheric conditions and damages. Simultaneously ...
food product wrapping machine
8002
8002 SITMA'S SUPERIOR TECHNOLOGY The new Sitma 8002 wrapping machine for frozen food is capable to process up to 9.000 pizzas/hour (150 pizzas/min) and boasts a stainless steel baseframe. The line is ...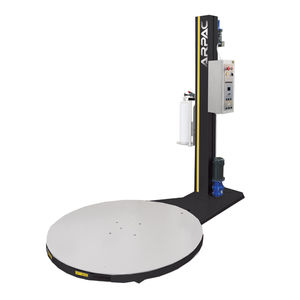 turntable stretch wrapper
Patriot Series WNW LP
Height: 81 in
... PATRIOT can be configured to handle oversized and tall loads. As with all ARPAC stretch wrappers, the PATRIOT is manufactured using quality materials and components in ARPAC's Stretch ...
See the other products
ARPAC Group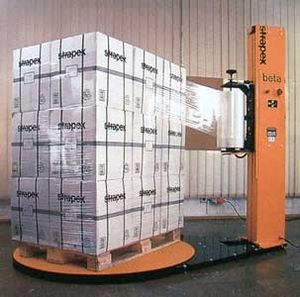 turntable stretch wrapper
... edges. The machines are available with semi-automatic turntables and completely automatic ring systems that can efficiently stretch wrap lightweight, voluminous or even empty products. ...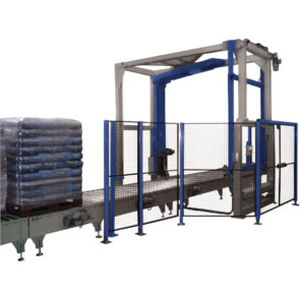 bag stretch wrapping machine
Uniwrap Series
High quality stretch wrappers for an affordable price. SPEED - 5 to 150 pallets per hour PALLET DIMENSION - All pallet sizes WRAPPING MATERIAL - Film OPERATION - Very user-friendly We supply ...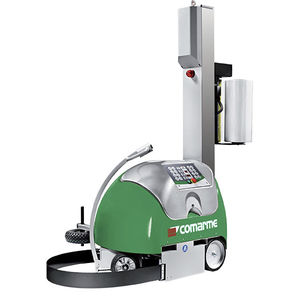 automated wrapping robot
RC1, RC1-E
Height: 2,150, 2,650, 2,950 mm
Automotive wrapping robot to wrap pallets of any dimensions, weight and forms while using stretch film or net film available in 4 types of carriages.
See the other products
COMARME
rotary arm wrapping machine
VAW
Height: 2,500 mm
Width: 1,200 mm
Length: 1,200 mm
... Verbruggen has developed a complete range of wrapping machines, which can be categorized into three main series: VAW wrapping machine -The VAW-series wraps pallets with a very high capacity using ...
See the other products
Verbruggen Emmeloord BV
turntable stretch wrapper
ILERGIR
Turning table stretch-wrapper BENEFITS Savings due to optimized film consumption. Elimination of the loose end of film from the beginning of the wrapping cycle Quick and easy film roll change and ...
rotary ring stretch wrapping machine
The machine applies a stretch film to the pallet to make it stable during the transport. The ring structure assures extreme production performances.
See the other products
MACDUE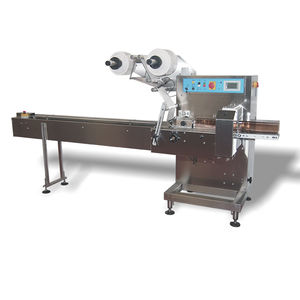 horizontal wrapping machine