The Online Industrial Exhibition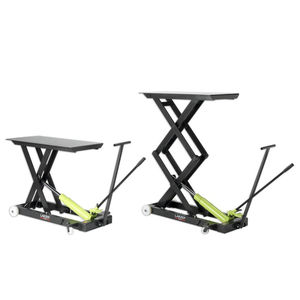 scissor lift table
F series
Lift: 500 mm - 1,500 mm
... F01571, single lift 1.500 kg capacity and 915 mm high. Model F005121, double lift 500 kg capacity and 1.600 mm high. A foot pedal is fitted to advance the lifting table ...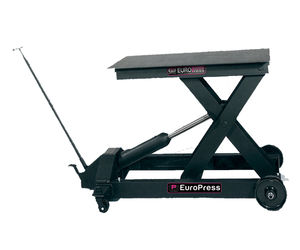 scissor lift table
UGT series
Capacity: 2,000 kg
The hydraulic lifting table of UGT is manufactured to lift 2 ton loads. Its height is 880 mm, therefore the operator can work in a comfortable position. You can mechanically lock the ...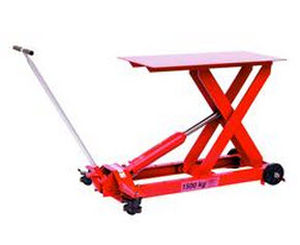 scissor lift table
RQLT1500
Capacity: 1,500 kg
Lift: 880 mm
Capacity: 1500 kg Working heigth-min-max: 210-880 mm Table length x width: 1020 x 500 mm Length mm: 0 Width mm: 0 Height mm: 0 Intrastat: 84678900 Weight kg: 135 Warranty: 24 Months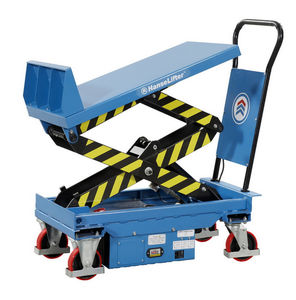 Capacity: 600, 300 kg
Lift: 500 mm - 1,620 mm
... and lowering up to 600 kg with E-NHT series tilt lift tables. High-quality polyurethane castors ensure the smooth running of the E-NHT tilt lift tables on all flat surfaces. E-NHT ...
See the other products
Hanselifter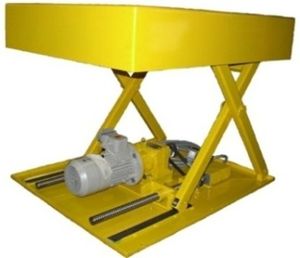 Capacity: 50,000 kg
Lift: 5,000 mm
The Lifting Table is manufactured by Enzfelder GmbH. The lifting table is fit for lifting or lowering with many parts. It has a hydraulic cylinder or spindle gear. The ...
See the other products
Enzfelder GmbH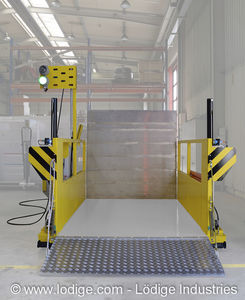 scissor lift table
SC series
Capacity: 3,000 kg
Lift: 1,400 mm
... smaller loads of up to 3 or 5 t. These units offer a compact solution with low installation height. These are powered by scissor lift mechanism that has an electrohydraulic drive system. The Express Loader S is designed ...
See the other products
Lödige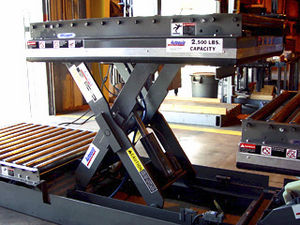 scissor lift table
35 series
Lift: 24 in - 60 in
... Series 35 lift tables are most often customized because of their versatility and vast number of models and options. Travel ranges from 24" to 60" and capacity ranges from 1,500 to 15,000 lbs. Common ...
See the other products
Autoquip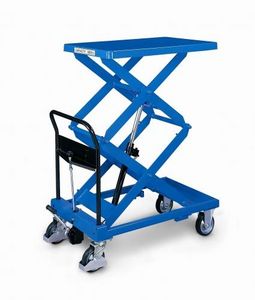 Capacity: 150, 250, 550, 800, 300 kg
Scissor tables in accordance with NEN EN 1570 standard and CE mark requirements. Hydraulic speed control valve, castors with foot protection. The LT-WH300-15 has a double scissor mechanism. • Speed centre. • Anti-overload ...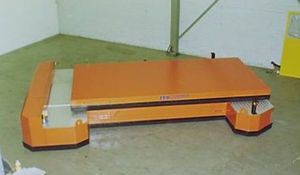 Lift tables The ITS Europe lift tables on air-bearings or air cushions swivel omnidirectionally in complete 2D freedom. By using lift tables ...
See the other products
ITS Europe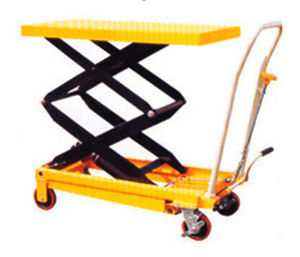 Capacity: 350 kg
Lift: 1,300 mm
Table Truck 1. Used for lifting、transporting、positioning、assembling、stacking and unstacking 2. Easy to operate brake keeps unit stationary while loading and unloading 3. While the lowering valve provides precise lowering
See the other products
HYTSU GROUP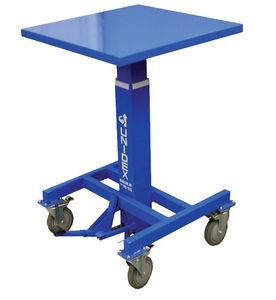 column type lift table
PHQL series
Capacity: 500 lb
Lift: 28 in - 44 in
... hydraulic lift tables are low-cost, high-performance portable workstations designed to provide dependable operation for a wide range of applications from automotive service to industrial assembly. They ...
See the other products
Unidex, Inc.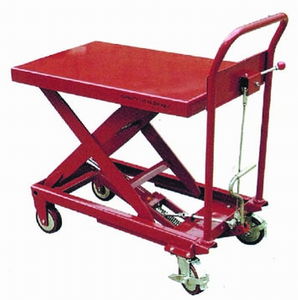 ... Item CYT-A300 CYT-A5Q0 CYT-A1000 Capacity 300kg 500kg 1000kg Mitt. Height 270mm 280mm 430mm Max. Height 900mm MOmm 1000mm Table dimension 810 x 500 x 50mm 815 x 500x50mm 1000 x 512 x 55mm No .Of tool pedal strokes to ...
See the other products
TOHO-RONGKEE ELECTRONIC AND MACHINERY CO., LTD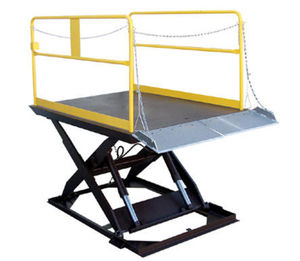 scissor lift table
WL series
Capacity: 5,000, 6,000, 8,000, 10,000, 12,000 lb
Lift: 68, 70, 72 in
Save time and reduce man-hours where there are no docks with a Truck Scissor Dock Lift. The pit or surface mount has an optional approach ramp. Engineered and designed for maximum safety and efficiency. The checkered ...
See the other products
Vestil Manufacturing
double-scissor lift table
PC350D
Capacity: 350 kg
Lift: 1,300 mm
DOUBLE SCISSOR FOOT PUMP OPERATED LIFT TABLE 350 Kg Lifting height mm 1.300 Polyurethane wheels Ø mm 125 TECHNICAL SPECIFICATIONS BASE FRAME AND PLATFORM MADE OF STEEL SMOOTH PLATE LOADING PLATFORM Foot ...
See the other products
CARMECCANICA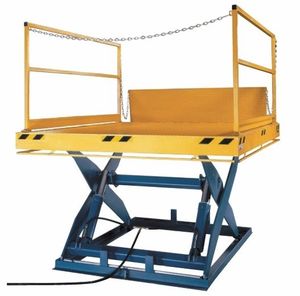 scissor lift table
DOCK-LIFT™ series
Capacity: 4,000, 20,000 lb
... push button power The DOCK-LIFT™ Series Scissor Lifts are the ultimate in strength, convenience and reliability with full hydraulic powered functions controlled by a push of a button. The NORDOCK Scissor ...
See the other products
Nordock Inc.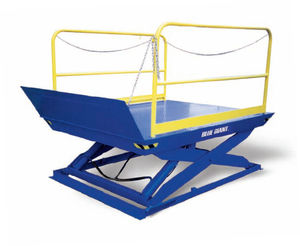 scissor lift table
ED series
Capacity: 1,818, 9,091 kg
... a dock lift will cost 1/3 the price of a fork lift truck and will have a quick and favorable payback when compared to the long-term cost associated with operating a forklift and manually loading / off-loading ...
See the other products
Blue Giant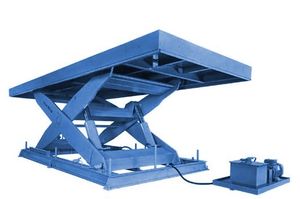 - Short assembly and maintenance times - Durable welded construction - High service life, even for rough, continuous operation - Rapid interchange of all drive components - The guided roller configuration ensures good guidance and a high ...
See the other products
ADE-WERK
column type lift table
PTL 1250
... 1250 table lift is a flexible, reliable and easily steered table lifting equipment. With its compact design, the PTL 1250 table lift allows simple and ...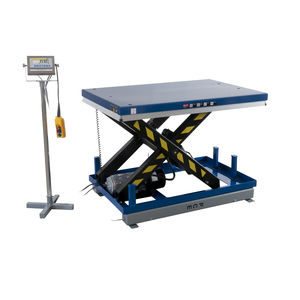 scissor lift table
PCE-HLTS 2
Capacity: 2 t
Lift: 350 mm - 1,130 mm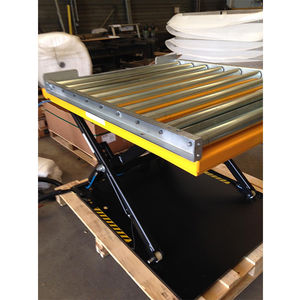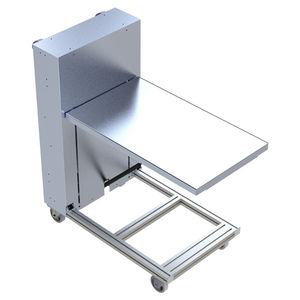 scissor lift table
Carrello sollevatore verticale
Trolley designed for manual handling of constant loads, usable in the industrial field. It allows the easy handling of lifting and handling of loads allowing the operator to maintain an upright position. Its operation does not require ...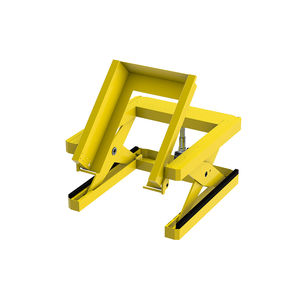 scissor lift table
3.17.16.000 series
Capacity: 2,000, 1,500, 1,200 kg
Lift: 630 mm
We realized a scissor lift table for a company operating in the automotive sector that needed to make more ergonomic the picking of aluminium components, from boxes, in the pre-assembly phase. The platform ...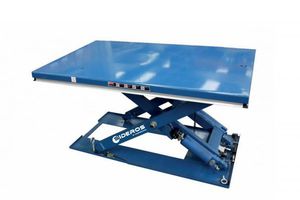 Capacity: 3,000 kg
Lift: 200 mm - 1,500 mm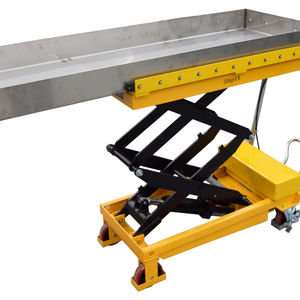 double-scissor lift table
Capacity: 150 kg
The Addfield Hydraulic Lift Table is the ideal accessory for every Pet Crematoria for the safe and easy loading of pets. Capable of operating while loaded with any size domestic pets, the Addfield Hydraulic ...
Lift: 550, 820, 830, 1,100, 1,600 mm
... been a tradition for several years to use lifting tables. The tables are corrosion proof, resistant to the rugged conditions and use of aggressive cleaning products. Stainless steel lifting ...