The Online Industrial Exhibition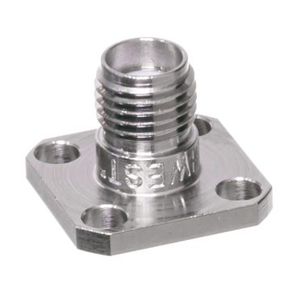 SMA connector
212-500SF series
Impedance: 50 Ohm
... Microwave's SuperSMA is a high performance field service SMA connector. SuperSMA utilizes the basic PTFE dielectric interface (true SMA) and features low VSWR mode free through 27 GHz and less than -100 dB RF ...
See the other products
Microwave Product Divison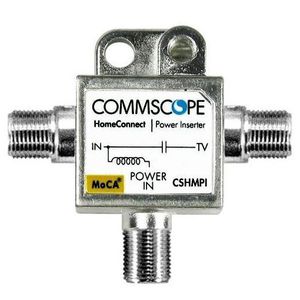 amplifier connector
CSHMPI
HomeConnect® Power Inserter for Subscriber Amplifiers with High Isolation
See the other products
COMMSCOPE
The PROTOLON™ (SMK) LWL is a moderate voltage reeling cable, engineered to combat immensely higher electrical forces related to greater travel pace, powerful tensile loads of torsional forces. PROTOLON™ (SMK) LWL consists of an incorporated ...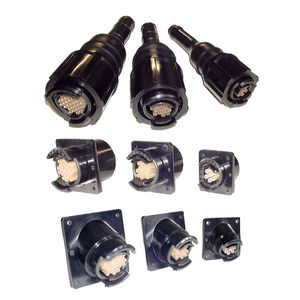 radio-frequency connector
60VJ Series
SAIB Connectique, the specific development leader, designs and produces electrical connectors for applications in harsh environments where reliability is the top priority. We also produce specific connections to customer ...
Features •U-shaped solder cup for easy solder installation •Precision machined with gold plated contacts •PTFE (not delrin) Materials •Body is machined brass with tarnish resistant nickel plating (not die cast). •Male center pin contacts ...
See the other products
Pomona Electronics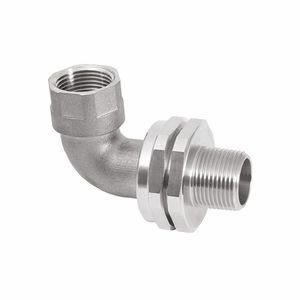 90° Union, Globally Approved, Explosive Atmosphere Cable / Conduit Accessory • Allows the connection of conduit or glands to equipment • Suitable for rigid or flexible conduit • Integral coupling eliminates the need to rotate the ...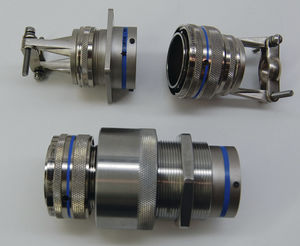 RF connector
PotCon PBTR series
Current: 5 A - 46 A
Connectors and Cable Clamps Connector Body Material: Aluminum, Electroless Nickel Plated. Other connector materials available upon request Cable Clamp Material: Aluminum, Electroless ...
See the other products
Douglas Electrical Components
RF connector
Micro D series
Current: 3 A
Voltage: 100 V
FILTERED MICRO D-SUB CONNECTORS EMI Filtered Micro D Series Connectors For designs that require even smaller connector packages, API Technologies has designed a line of filtered Micro ...
See the other products
API Technologies - Spectrum Control
IMM modules provide performance and circuit isolation that meets IEEE 802.3 and ANSI X3.263 Ethernet Standards. Modules are compatible with a variety of 10/100Base-TX and Gigabit transceiver ICs. IMMs are available for Power over Ethernet ...
RF connector
RKMCx, RSMCx series
Current: 3, 4 A
Voltage: 30, 60 V
Wire up field attachable connectors yourself, easily and flexibly - Lumberg Automation™ M8 Field attachable connectors permit high flexibility for wiring in the field.
Current: 1 A
Voltage: 250 V
Pitch: 0.64 mm
... maintaining their electrical integrity, these connectors are ideal for the most demanding applications. Gold plated contacts are polarized and shrouded by our unique Liquid Crystal Polymer housing, making these connectors ...
See the other products
Omnetics Connector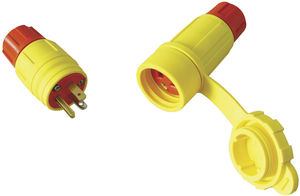 Ericsons Perma-Kleen™ Anti-microbial Wiring Devices provide a new and innovative approach to controlling microbial growth by incorporating anti-microbial additives that remain stored in the polymer providing continual, long lasting protection. ...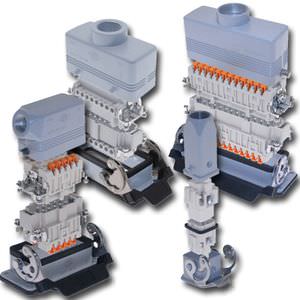 Current: 16 A
ILME multipole rectangular connector kits include a base, a mating hood (top and side entry options), a female insert and a male insert. Inserts are available in standard screw terminal or tool-less spring (Squich) terminal. ...
See the other products
Mencom Corporation

Pitch: 0.635 mm
Data rate: 17 GB/s
These rugged, high-speed connectors feature a ground plane and high-wipe contacts. FEATURES Performance: Up to 8.5 GHz / 17 Gbps Increased insertion depth Dual stage hot pluggable Integral ground/power ...
See the other products
SAMTEC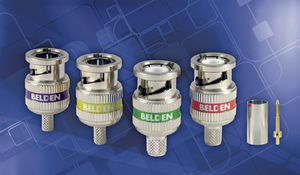 RF connector
HD Brilliance®
... Excellent Return Loss through 4.5 GHz extended head knurl nut for easy grip Connector color band identifies cable size Custom compression tools Limited Lifetime Connector Warranty when partnered with ...
See the other products
Belden Electronics GmbH Standort Neckartenzlingen
RF connector
CA-COM series
Current: 310 A
Voltage: 50 V
Product Description CA-COM circular connector series from ITT provides solutions for rugged industrial , transportation and medical applications. Designed to meet industrial indoor applications this series provides bayonet ...
See the other products
ITT Cannon
... only produce compressed air piping system network, and this product is one of the components. One piec of AIRPIPE Flange Connector is needed to connect the flange to the pipe.And we guarantee 10 year's quality assurance ...
Current: 0.3 A
Pitch: 0.5 mm
... the generation of noise and protecting against interference, furthemore, metal shell covers up the connector entirely, and this assures not high connector strength but also high immunity to noise. TMC ...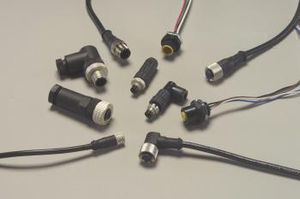 MICRO-LINK MOLDED CONNECTORS IMPROVE RELIABILITY IN HARSH CONDITIONS Remke Micro-Link Molded Cable Connectors and cord sets are rated IP 68 and NEMA 6P for superior moisture resistance. They offer fast, ...
RF connector
811-S1-NNN-30-XXX101
Current: 3.5 A
Pitch: 2.54 mm
Low resistance modular connectors with spring-loaded contacts (SLC), surface mount. Contacts with improved, shaped piston design.
See the other products
preci-dip
RF connector
Series VP - VarioPro
Current: 13 A
Voltage: 8,000 V - 13,000 V
The Series-VarioPro is a high voltage circular connector that runs in a direct current voltage range of 8 to 13 kV. It has a working current of either 13 A or 30 A. This circular connector fabricated ...
See the other products
GES Electronic & Service GmbH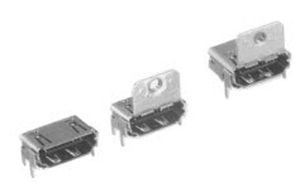 RF connector
CAM-F77B, F77C
Current: 0.5 A
Voltage: 40 V
[FEATURES] 1. 19 pins connectors that conform to HDMI interface. 2. There are two types of CAM-F77B, and F77C: those with a flange for mounting to external case and those without. There is also a F77B type with an enlarged ...
See the other products
Mitsumi Electric
radio-frequency connector
EC
(F715) EC is a Radiall proprietary connector designed for Telecom & CATV networks, with a plastic body and push-pull type. Its very low return loss makes EC also highly recommended for sensor applications. Available in ...
See the other products
Radiall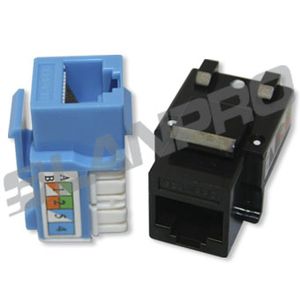 The LanPro 8P8C (8 Position 8 Contact) unshielded keystone jack is a modular connector used to terminate Network Cables. These connectors are commonly used for Ethernet over twisted pair, registered jacks ...
See the other products
LanPro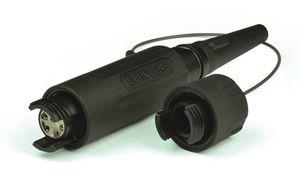 ... connection ("connector-connector" or "connector-bulkhead" possible) Less mud sensitive (when open) Especially suitable for frequent connectorization Easy to terminate ...