multi-channel manifold
ZP700, BL700, RV700
Operating pressure: 350 bar - 700 bar
Features • Intermediate plates for the installation of orifices and check valves • Intermediate plates with threaded connections for measuring instruments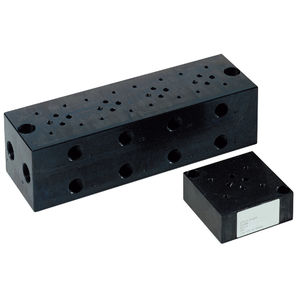 multi-channel manifold
max. 25 l/min, max. 700 bar, DIN 24340 | AP/RP700 series
Operating pressure: 0 bar - 700 bar
Subplates Type AP/RP700 Subplates with side or bottom connection, compact design up to 6 stations, porting NG6 according to DIN 24340

Custom designed manifolds, spool pieces and unique piping configurations are a specialty at Allegheny Bradford. Manufactured of 316L, 316 and 304 stainless steel with a wide range of sizes and connection options, we use special fabrication ...

Hydraforce custom manifolds toughens up the hydraulic control system. These manifolds minimizes the external connections being put and ensures a leakage free operation. They also cut installation time and system maintenance off. The ...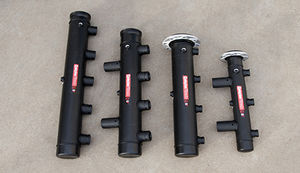 Operating pressure: 42 bar
According to the tests carried out by the Department of Engineering, Energy and Fluids Engineering of the Polytechnical Univesity of Madrid, the SF manifolds have withstood an internal pressure of 42 bars. Given the wide variety of ...

multi-channel manifold
40400 series

multi-channel manifold
1/4"
1/4" T Fittings-3 pcs 1/4" Elbow Fitting-1 pc 1/4" Man. Bracke -1 pc Mounting Screws-3 pcs

multi-channel manifold
1/2"

multi-valve manifold
VV5QC11 1000 series
Creating a world of ease to wiring and maintenance work, the VQC series has five standard wiring packages. It offers three protective enclosures which conform to IP67 standards. These keep out dusts and moisture. The use of multi-pin ...
See the other products
SMC Corporation of America

5-valve manifold
SS0750 series
Featuring a high flow capacity, SMC's S0700 series provides a manifold design and compact valve. It comes in both plug-in and plug lead models. The five-port solenoid valve is 7mm in width. Serial transmission types, D-sub connectors, ...
See the other products
SMC Corporation of America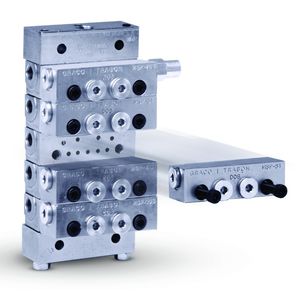 multi-channel manifold
Trabon MSP Series
Operating pressure: 3500 psi
The Trabon MSP Series sets the industry standard for quality, reliability, and ease of use features. It was the original modular-style series progressive divider valve–and is still the best! Graco is pleased to now offer MSP Stainless ...

multi-channel manifold
max. 315 bar | HSR 06
It comes in series 2x and 3x and in size 6. Its operating pressure is 315 bar max.

multi-channel manifold
max. 600 l/min, max. 350 bar | PSBD02
The PSBD02 pump-manifold blocks are in series 1X, and come in sizes 40, 71, 180 and 355. The highest pressure is 350 bar, and the greatest flow is 600l/min.

The Parker Speed Shop offers short lead time integrated hydraulic circuits. Parker provides superior circuits thanks to the engineering expertise and most current manufacturing technology and computer-aided design, which provides the ...

2-valve manifold
SS-V2BF8
Operating pressure: 0 bar - 413 bar
Port size: 0.5 in - 1 in
Swagelok SS-V2BF8 2-valve 1/2 in. female NPT instrument manifolds are made of 316 Stainless Steel and have a ball tip stem.
See the other products
SWAGELOK

2-valve manifold
SS-V2BF8
Manifold Valves from Swagelok has a growing range of accessories and related products used mainly for process piping and instrumentation. These valves are fashioned out of various materials, each of high quality - stainless steel, duplex ...
See the other products
SWAGELOK

Port size: 0.13 in - 1 in

Legris makes aluminum compressed air units for pneumatic circuits with a threaded or LF3000 connection as necessary.

2-valve manifold
max. 600 bar, 1/4"
Ham-Let's two-way direct mount manifold is widely used in the oil, gas and petrochemical industries for most of the pressure, differential level and flow applications. It is designed with an o-ring concept body made of stainless steel. ...
See the other products
HAM-LET

3-valve manifold
max. 600 bar, 1/4″
HAM-LET ASTAVA manifolds are available with 2, 3 or 5 way instrument options and are 100% compatible with the Petrochemical and Oil & Gas industries. Construction is 316 stainless steel with O ring (choice of materials) or packing ...
See the other products
HAM-LET


Parker's RM02 Liquid Line Manifolds help optimize coil efficiency, thus decreasing coil and overall unit size. The manifolds are used on slab coils, A-coils, condenser coils, package air-conditioning units and package heat-pump units. ...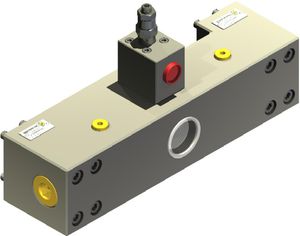 Operating pressure: 0 bar - 160 bar
Outlet manifold has been designed by Berarma in order to combine the flow-rates of two PVS / PSP size 3 combined pumps. In particular its installation is suggested for Berarma PSPC pumps. Features and technical data: - Maximum flow-rate ...

NIBCO® PEX Radiant Heat Manifolds provide a dependable, durable, and sophisticated control solution for the distribution of heated fluid flowing through NIBCO® PEX loops for radiant heating in all construction types. Push-and-turn ...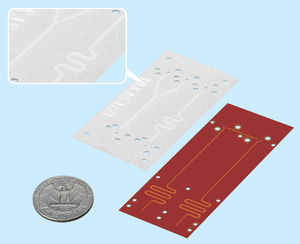 The Film Chip is extremely thin and made with precise channels micromachined in layers of bonded resin films. It is flexible and can be curved. Through the mounting of fluid control devices such as miniature valves on the film, employment ...

5-valve manifold
ISO series
Port size: 0.25 in - 0.38 in
Conventional Multi-Pressure Packs Up to six pressure selects 30-120 psi Accuracy of plus/minus 3 psi working pressure All-in-one compact lightweight package Available in a variety of models including ISO, Ford/Chrysler interface ...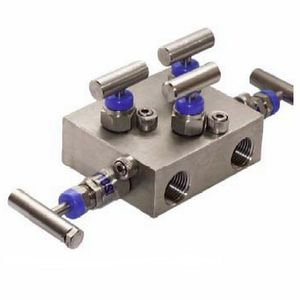 multi-channel manifold
V series
Delta Controls has expanded its' process control instrumentation portfolio by introducing a complementary range of valves and manifolds. Ideal for use in conjunction with Delta's pressure and temperature switches or pressure transmitters, ...

multi-channel manifold
10 000 psi
Operating pressure: 10000 psi
Product Type: Manifolds and Fittings When multiple-cylinder installiation is required.
See the other products
SPX Hydraulic Technologies

3-valve manifold
KB series
Single Manifold Block for D03 CETOP Valve BSPP Ports Kit includes all seals and mounting hardware CETOP valve not included Use M5 thread mounting bolts for valve Will allow only single D03 valve (not intended for multiple valve stacking)
See the other products
SPX Hydraulic Technologies