multi-channel manifold
ZP700, BL700, RV700
Operating pressure: 350 bar - 700 bar
Features • Intermediate plates for the installation of orifices and check valves • Intermediate plates with threaded connections for measuring instruments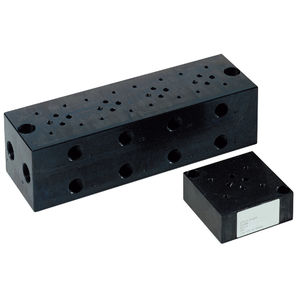 multi-channel manifold
max. 25 l/min, max. 700 bar, DIN 24340 | AP/RP700 series
Operating pressure: 0 bar - 700 bar
Subplates Type AP/RP700 Subplates with side or bottom connection, compact design up to 6 stations, porting NG6 according to DIN 24340

Custom designed manifolds, spool pieces and unique piping configurations are a specialty at Allegheny Bradford. Manufactured of 316L, 316 and 304 stainless steel with a wide range of sizes and connection options, we use special fabrication ...

Operating pressure: 413 bar
Port size: 0.25 in - 0.5 in
We have with us extensive industry experience as well as well developed production setup to successfully meet the demands of manifold valves. These include 2 Valve Manifolds, 3 Valve Manifolds, 5 Valve Manifolds and Monoflange Valves. ...

Hydraforce custom manifolds toughens up the hydraulic control system. These manifolds minimizes the external connections being put and ensures a leakage free operation. They also cut installation time and system maintenance off. The ...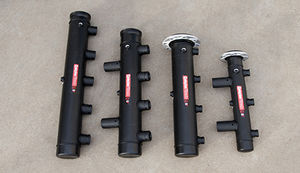 Operating pressure: 42 bar
According to the tests carried out by the Department of Engineering, Energy and Fluids Engineering of the Polytechnical Univesity of Madrid, the SF manifolds have withstood an internal pressure of 42 bars. Given the wide variety of ...

multi-channel manifold
40400 series

multi-channel manifold
1/4"
1/4" T Fittings-3 pcs 1/4" Elbow Fitting-1 pc 1/4" Man. Bracke -1 pc Mounting Screws-3 pcs

multi-channel manifold
1/2"

multi-valve manifold
VV5QC11 1000 series
Creating a world of ease to wiring and maintenance work, the VQC series has five standard wiring packages. It offers three protective enclosures which conform to IP67 standards. These keep out dusts and moisture. The use of multi-pin ...
See the other products
SMC Corporation of America

5-valve manifold
SS0750 series
Featuring a high flow capacity, SMC's S0700 series provides a manifold design and compact valve. It comes in both plug-in and plug lead models. The five-port solenoid valve is 7mm in width. Serial transmission types, D-sub connectors, ...
See the other products
SMC Corporation of America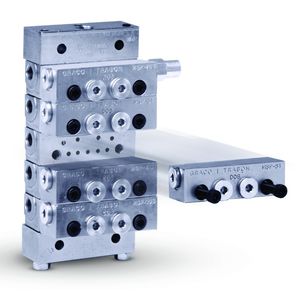 multi-channel manifold
Trabon MSP Series
Operating pressure: 3500 psi
The Trabon MSP Series sets the industry standard for quality, reliability, and ease of use features. It was the original modular-style series progressive divider valve–and is still the best! Graco is pleased to now offer MSP Stainless ...

multi-channel manifold
max. 315 bar | HSR 06
It comes in series 2x and 3x and in size 6. Its operating pressure is 315 bar max.

multi-channel manifold
max. 600 l/min, max. 350 bar | PSBD02
The PSBD02 pump-manifold blocks are in series 1X, and come in sizes 40, 71, 180 and 355. The highest pressure is 350 bar, and the greatest flow is 600l/min.

The Parker Speed Shop offers short lead time integrated hydraulic circuits. Parker provides superior circuits thanks to the engineering expertise and most current manufacturing technology and computer-aided design, which provides the ...

2-valve manifold
SS-V2BF8
Operating pressure: 0 bar - 413 bar
Port size: 0.5 in - 1 in
Swagelok SS-V2BF8 2-valve 1/2 in. female NPT instrument manifolds are made of 316 Stainless Steel and have a ball tip stem.
See the other products
SWAGELOK

2-valve manifold
SS-V2BF8
Manifold Valves from Swagelok has a growing range of accessories and related products used mainly for process piping and instrumentation. These valves are fashioned out of various materials, each of high quality - stainless steel, duplex ...
See the other products
SWAGELOK

Port size: 0.13 in - 1 in

Legris makes aluminum compressed air units for pneumatic circuits with a threaded or LF3000 connection as necessary.

2-valve manifold
max. 600 bar, 1/4"
Ham-Let's two-way direct mount manifold is widely used in the oil, gas and petrochemical industries for most of the pressure, differential level and flow applications. It is designed with an o-ring concept body made of stainless steel. ...
See the other products
HAM-LET

3-valve manifold
max. 600 bar, 1/4″
HAM-LET ASTAVA manifolds are available with 2, 3 or 5 way instrument options and are 100% compatible with the Petrochemical and Oil & Gas industries. Construction is 316 stainless steel with O ring (choice of materials) or packing ...
See the other products
HAM-LET


Parker's RM02 Liquid Line Manifolds help optimize coil efficiency, thus decreasing coil and overall unit size. The manifolds are used on slab coils, A-coils, condenser coils, package air-conditioning units and package heat-pump units. ...

multi-valve manifold
Isonic® series
Introducing The Low Power Isonic® V2 Valve The versatile Isonic® V2 series of 2 and 3-way, normally open/closed, in-line or manifold solenoid valves is now available with expanded voltage and power consumption options. High-strength ...

This 5 cylinder manifold is offered bi BIMBA. The 5-cylinder equipment comes in a compact center line to center line design. This is ideal for working in challenging spaces, where layers upon layers of bores are required.

KIESEL manufactures pigging stations in nominal diameters from DN 25 to DN 250 (additional diameters upon inquiry). The manifolds are individually designed based on the plant standard respective customer's plant standard. This provides ...

multi-channel manifold
max. 7.67 MPaG, max. 425 °C
Manifolds suitable for use on steam supply branches and for convergence condensate from trace lines etc. Operating Pressure Range: 0 - 5 MPaG Operating Temperature Range: 0 - 400 °C

Operating pressure: 0 psi - 5000 psi
Standard & Custom Manifolds Continental Hydraulics can offer you a wide range of manifolds from standard to custom.

multi-channel manifold
VTD series
The VMECA manifolds allow several attachments in a single, standard and greater BSP attachment. It is essential to preserve pipe bore volume on vacuum loops during the use of two suction pumps. Additionally, the manifolds are highly ...