{{loadProductsPushed('kwref','65505', '','','4', '3')}} {{#pushedProductsPlacement4.length}} {{#each pushedProductsPlacement4}}

{{product.productLabel}}
{{product.model}}
{{#each product.specData:i}} {{name}}: {{value}} {{#i!=(product.specData.length-1)}}
{{/end}} {{/each}}
{{{product.idpText}}}
{{#if company.requestButtonsVisibility.requestButtonQuestion == "ACTIVE"}}
{{elseif company.requestButtonsVisibility.requestButtonWhereToBuy == "ACTIVE"}}
{{/if}}
{{#if product.innovationType}} {{else}} {{#if product.newProduct}} {{/if}} {{/if}} {{#if product.hasVideo}} {{/if}}
{{/each}} {{/pushedProductsPlacement4.length}}
{{loadProductsPushed('kwref','65505', '','','5', '3')}} {{#pushedProductsPlacement5.length}} {{#each pushedProductsPlacement5}}

{{product.productLabel}}
{{product.model}}
{{#each product.specData:i}} {{name}}: {{value}} {{#i!=(product.specData.length-1)}}
{{/end}} {{/each}}
{{{product.idpText}}}
{{#if company.requestButtonsVisibility.requestButtonQuestion == "ACTIVE"}}
{{elseif company.requestButtonsVisibility.requestButtonWhereToBuy == "ACTIVE"}}
{{/if}}
{{#if product.innovationType}} {{else}} {{#if product.newProduct}} {{/if}} {{/if}} {{#if product.hasVideo}} {{/if}}
{{/each}} {{/pushedProductsPlacement5.length}}

via Raman spectroscopy analyzer
Mira M-1
The Metrohm Instant Raman Analyzers (Mira) are handheld, high-performance Raman spectrometers for rapid, nondestructive analysis of chemical and pharmaceutical samples, be they liquid or solid. Barely larger than a smartphone, ...

metal analyzer
VoltIC Vario pro I
... anions, cations as well as heavy metals. It uses MagIC Net to control IC devices, allow voltammetric determination and analyze and summarize both results.

total organic carbon analyzer
ADI 7010 TOC
The new ADI 7010 TOC On-Line Analyzer determine the sum of all organically bound carbon in a water flow and accordingly a measure of organic loading or pollution and can be utilized as a non-specific ...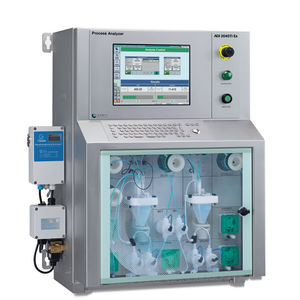 water analyzer
ADI 2045TI Ex proof
The ADI 2045TI EX proof process analyzer is used for wet chemical analysis of various hazardous environments belonging to the Zone I and Zone II. It fully meets the EU standards 94/9/EC (ATEX 95) and has all the necessary ...

metal analyzer
Q8 CORONADO
Q8 CORONADO, a user-friendly analysis automation with unmatched reliability, small footprint, simple maintenance, and low operational costs. Q8 CORONADO is a fully automated metal analyser. Just enter the sample, register on the touchscreen ...

combustion analyzer
G4 ICARUS
The combustion analyzer G4 ICARUS HF with high frequency furnace and infrared detection is the ideal instrument for rapid and precise carbon and sulfur analysis in solids, especially with metallic materials but as well ...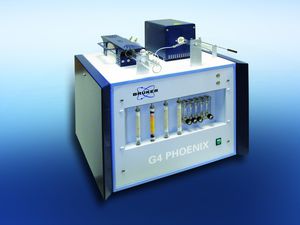 hydrogen analyzer
G4 PHOENIX
The G4 PHOENIX DH hot extraction analyzer is the right solution for accurate and rapid diffusible hydrogen measurement to avoid embrittlement, hydrogen-induced cracking and other costly failures. The G4 PHOENIX DH, ...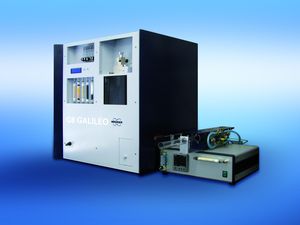 high-performance analyzer
G8 GALILEO
... compared to a TCD. The G8 GALILEO, inert gas fusion analyzer, is available with facilities for analyzing all three elements O, N and H, as dual analyzer for two elements and as single-element ...

gas analyzer
Arnel GC Engineered Solutions
... From refinery gas analyzers to simulated distillation, we offer a variety of standard analyzers and custom solutions that enable customers to meet their industry's regulatory requirements. Technologies ...
See the other products
PerkinElmer, Inc.

TG-GC/MS analyzer
TG-GCMS
The combination of a TGA with a GC/MS is becoming increasingly popular. When you heat a sample on the TGA it causes gases to be released. These gases are then transferred to the GC where the components can be collected. The sample can ...
See the other products
PerkinElmer, Inc.

The combination of a TGA with a MS allows you to detect very low levels of impurities in real time. By heating a sample on the TGA, the sample will release volatile materials or generate combustion components as it burns. These gases ...
See the other products
PerkinElmer, Inc.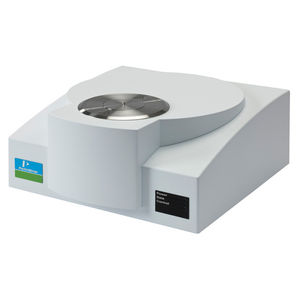 thermogravimetric analyzer
TGA 4000
The TGA 4000 Thermogravimetric Analyzer delivers fast, accurate and precise results with less effort. The compact ceramic furnace provides the temperature control needed for accurate, precise results and the fast sample ...
See the other products
PerkinElmer, Inc.

thermogravimetric analyzer
TGA 8000
The NEW TGA 8000™ Thermogravimetric analyzer delivers high throughput and reliability, even unattended. Plus, for better understanding of evolved gases our advanced hyphenation technology works beautifully with FT-IR, ...
See the other products
PerkinElmer, Inc.

power quality analyzer
MAVOWATT 230, 240, 270 Series
The MAVOWATT 230, 240, 270 offer the best value in a Power Quality, Demand, and Energy analyzer from GOSSEN METRAWATT, or any other PQ analyzer manufacturer! No other product comes close to matching ...

power quality analyzer
MAVOWATT 30
The 3-phase power and mains disturbance analyzer MAVOWATT 30 fulfills the standards EN50160, EN61000-4-7 and EN61000-4-15 which are relevant for mains quality measurement, as well as EN61000-4-30 which specifies measuring ...

power quality analyzer
MAVOWATT 20
The Energy Platform is an innovative and essential tool for any electrical energy monitoring application. Whether you want to understand your utility costs, improve efficiency, install energy savings devices, explore alternative energy ...

power quality analyzer
MAVOLOG 10
* Monitoring of mains quality with simultaneous recording of 3-phase AC quantities * Internal analysis of voltage quality at short-term, daily and long-term intervals in accordance with EN50160 and other industrial standards ...

three-phase power analyzer
A2000
The A2000 multifunctional power meter measures all values for three-phase systems. new: 2 Analog inputs for standard signal or Pt1000 sensors e.g. for temperature measurements at transformators Data logger with 250.000 entries Connection ...

precision analyzer
Kernelyzer-F series
Kernelyzer-F Brabender presents a a new NIR analyzer was specifically designed for effective analysis of powdered product samples such as flour and starch. The new analyzer is designed for superior optical ...

precision analyzer
Kernelyzer-G series
Kernelyzer-G, Brabender® with its new device and innovative spectral analysis provides reliable and quick determination of content substances of whole grains. The G in the device stands for 'grain'. The device is capable of displaying ...

flue gas analyzer
KIGAZ 80
See the other products
KIMO

combustion analyzer
0 - 8 000 ppm, 0 - 21 % | KIGAZ 100
The KIGAZ 100 by Kimo instruments is a combustion gas analyzer that consists of two interchangeable sensors and 15 programmed combustibles with a data measurement print out. It is provided with a magnetic protective ...
See the other products
KIMO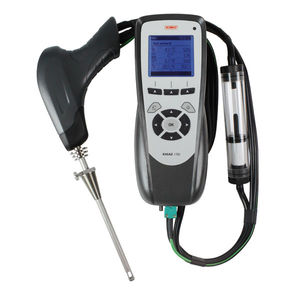 combustion analyzer
max. 8 000 ppm, 0 - 21 % | KIGAZ 150
KIMO's KIGAZ 150 an efficient combustion gas analyzer that can measure up to 8000 ppm of CO2 and H2 and up to 21% in O2 levels. With its pump auto-stop sensor protection, autodiagnostic menu, sensors, ...
See the other products
KIMO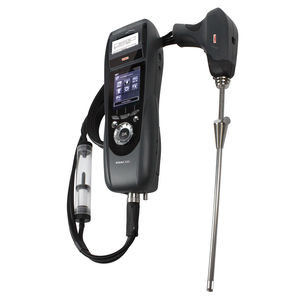 combustion analyzer
max. 10 000 ppm, 0 - 21 % | KIGAZ 200
The KIMO KIGAZ 200 gas analyzer is a high performance detector that features 15 programmed gasses. The robust design features a magnetic protective cover and a solenoid valve that protects the CO sensor. Its measurement ...
See the other products
KIMO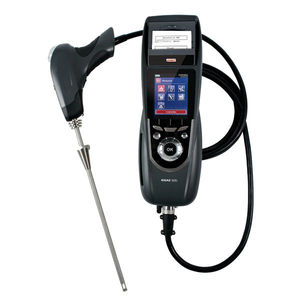 combustion analyzer
0 - 10 000 ppm, 0 - 21 % | KIGAZ 300
KIGAZ 300 is a high-combustion gas analyzer and is equipped with a single connector, 3 pressure sensors, transposable flue gas probe, a unified printer, and water trap. It is designed with a magnetic protective gear ...
See the other products
KIMO

The PX8000 is a precision power scope manufactured by Yokogawa. This device brings the oscilloscope-style time-based measurement to the power measurement industry. The tool can accurately record voltage and current wavelength, allowing ...
See the other products
YOKOGAWA Europe

spectrum analyzer
1200 - 2400 nm | AQ6375
The AQ6375 Long Wavelength Optical Spectrum Analyzer offers excellent performance as an analyzer that covers over 2 μm wavelength. This high quality product was created for researchers and engineers ...
See the other products
YOKOGAWA Europe

signal analyzer
80 MS/s | TA720
The TA720 Time Interval Analyzer has larger memory and is faster than the highly rated TA520 and TA320. It has a maximum sampling rate of 80 MS/s and maximum memory capacity of 1024 k samples (in Time stamp mode). Additionally, ...
See the other products
YOKOGAWA Europe

voltage analyzer
150 - 1000V | CW240
CW240 power meter is a one-stop solution for improving energy efficiency, finding areas for improvement and assessing equipment lifecycles. This device is capable of providing in-depth information about an item of equipment, or even ...
See the other products
YOKOGAWA Europe

dissolved oxygen analyzer
FLXA21
The API 2000TM LC/MS/MS System brings the ability and performance of triple quadrupole mass spectroscopy to the user's benchtop. Its efficient style leads to a real benchtop LC/MS/MS system requiring less area in the research laboratory. ...
See the other products
YOKOGAWA Europe

The Display Colour Analyzer CA-310 from Konica Minolta offers a high-speed, high-accuracy device that provides a higher accuracy for measuring LED-backlit LCD TVs. The distributed spectral emission of LEDs is slightly ...

aluminum analyzer
min. 5 ml/min | Stamolys CA71AL
The Stamolys CA71AL aluminium analyzer is a photometric analysis system that is compact and unique. It is used for measurement of aluminum in drinking water as well as waste water. The benefits that you can get from ...

total organic carbon analyzer
0.25 - 12 000 mg/l | CA72TOC
The High temperature TOC analyzer CA72TOC is a steady online monitoring of industrial wastewater that complete the total organic carbon (TOC) content in various industries. It accurately measures ...

particle size analyzer
max. 1 µm - 3 mm | CAMSIZER XT®
The new CAMSIZER XT can be highly useful in quality control of fine powders. Its exact and instant analysis of particle size and shape improves the quality of the product and proves to be cost-efficient. The CAMSIZER XT uses the basic ...

conductivity analyzer
TMEH 1
OilCheck screen TMEH 1 senses alterations in the condition of oil. The OilCheck senses and gauges the dielectric constant of lubricant. By contrasting the dimensions acquired from unused and used oils of the identical make, the SKF OilCheck ...

The Alcolyzer Beer Analyzing System from Anton Paar is designed to provide an accurate analysis to produce high-quality beer. It is capable of producing reliable measures of alcohol content of all types of beers. This ...
See the other products
Anton Paar

The Soft Drink Analyzer M calculates the density and sound velocity of soft drinks, syrups, or HFCS samples in one cycle. It employs a double analysis method which involves the automatic determination of density and ...
See the other products
Anton Paar

electro-kinetic analyzer
SurPASS
Anton Paar presents SurPASS electrokinetic analyzer. It is used for inspecting the zeta potential of macroscopic solids on the basis of the streaming potential (SP) and streaming current (SC) method. The zeta potential ...
See the other products
Anton Paar

soft drink analyzer
PBA-SD Génération M
... the CO2 content of the sample. No degassing is required, just select a method and push the button to get extremely fast and precise results. PBA-SD Generation M consists of a DMA 5000 M density meter, DietQC™ ME colorimeter ...
See the other products
Anton Paar

analyzer / carbon dioxide
Carbo 2100 MVE
... 2100 MVE is a carbon dioxide (CO2) analyzer developed by Anton Paar. It is specifically made to cater goods with very high nitrogen or oxygen content. This analyzer can have installations with a bypass ...
See the other products
Anton Paar

metal analyzer
165 - 750 nm | FOUNDRY-MASTER Xline
The newly launched FOUNDRY-MASTER X-line is the ultimate spectrometer for both ferrous and non-ferrous small foundries and related processing industries. It offers great performance for an entry level laboratory spectrometer. It is designed ...
See the other products
Oxford Instruments

metal analyzer
130 - 780 nm | FOUNDRY-MASTER Xpert
Based on the well-known FOUNDRY-MASTER UV, the FOUNDRY-MASTER Xpert is designed to analyze metals, ferrous and non-ferrous alike, including nitrogen found in high-alloyed duplex steels and critical elements such as selenium, ...
See the other products
Oxford Instruments

coating thickness analyzer
X-Strata920
The X-Strata 920 is a coating thickness measurement analyser. This machine is said to be economical and user-friendly with swift measurement function covering from one to four coating layers. This is non-destructive and very dependable ...
See the other products
Oxford Instruments

coating thickness analyzer
MAXXI 6
MAXXI 6 - Coating thickness analyser Coating thickness measurement, based on X-ray fluorescence (XRF), is a widely accepted and industry-proven analytical technique, offering easy to use, fast and non-destructive analysis, requiring ...
See the other products
Oxford Instruments

coating thickness analyzer
Eco series
The COMPACT Eco, MAXXI Eco and MAXXI 5 are universal instruments for coating thickness measurement and material analysis, offering the best price-performance ratio available today. Based on X-ray fluorescence technology (XRF) the Eco ...
See the other products
Oxford Instruments

spectrum analyzer
20 - 40 kHz | WCA Lite
Basic FFT analysys function Time function Sectrum Auto-power spectrum Power spectrum density function Transfer function (H1) Coherence function 1/1, 1/3 octave

vibration analyzer
24 bit, 100 dB | AD-3651
User-friendly GUI with greater ease of operation A workflow-orientated menu will help the operator reduce system setup time and boost testing productivity. Complete compatibility with the WCAonPC / AD-3600 series A compatible user ...

vibration analyzer
USB, 100 dB, 24 bit | AD-3661
The WCA mini AD3661 - It goes where you go- Portable 4-channel Noise & Vibration Analysis System - USB bus power unit - 24 bit, 4-channel measurements - A channel exclusively for tacho pulse measurements - WCAPRO (multi analysis ...

vibration analyzer
max. 20 kHz | AD-3552
To meet the demands of rapid change in the factory automation industry, A&D offers a powerful field tool with a new high level of performance. The AD-3552 was created with a comparator function for machinery vibration & noise testing ...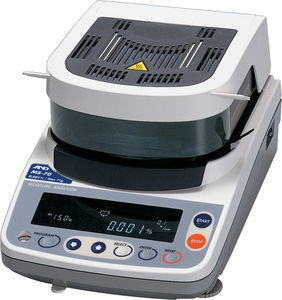 humidity analyzer
51 - 71 g, 0.001% ... 0.1% | MS, MX, MF, ML series
... 50 and the ML-50 are moisture analyzers that utilize the heating and drying method, which compares the weight of a sample before and after heating and drying. Compared with Karl Fischer analyzers, the ...

humidity analyzer
-30 °C ... +70 °C, max. 345 bar | MIS1
In the GE family of moisture analyzers, this multi-function and multi-channel model measures the pressure, temperature, and moisture in non-aqueous gases and liquids. With its system integrated design, the Moisture Image ...

humidity analyzer
-30 °C ... +70 °C, max. 345 bar | MMS3
The Moisture Monitor Series 3 Analyzer also known as the MMS 3 may come in single or dual channel analyzer. This top of the notch device contains a double line connector and an alphanumeric LCD intended ...

humidity analyzer
5 - 5 000 ppm, -20 °C ... +65 °C | Aurora
The Aurora analyzer by GGE renders accurate and rapid measurements of moisture in natural gas with the help of tunable diode laser absorption spectroscopy (TDLAS). This device is perfectly suited for dangerous areas ...

humidity analyzer
-110 °C ... +70 °C, max. 345 bar | MMS 35 IS
35 IS (MMS 35 IS) belongs to the Moisture Monitor Series and is a portable hygrometer that is powered by a battery, enclosed in a damaged-resistant housing and is deemed intrinsically safe. When bought together with the optional internal ...

humidity analyzer
-100 °C ... +20 °C, max. 150 psi | DewPro MMY245
GE's DewPro MMY245 is a portable moisture analyzing instrument capable of multiple tasks; it is, however, mainly capable of inspecting gas dryer overall operating performance, checking for any breathing air, compressed ...

color analyzer
max. 15 s | IntelliTrax
The IntelliTrax Auto Scanning System is applied for CIP4 and JDF data industrial standards that ensures quicker assembly and better accuracy on job information like ink rotation, color specification, job identification and paper stock. ...

Assertively equivalent color to virtually any plane – Immediately! Confine color motivation from any plane, fabric or material – even tiny, decorative, colorful surfaces and materials, and contest it rapidly and precisely to a PANTONE ...

flue gas analyzer
max. 1 250 °C | WDG 1200 / 1210
The WDG 1200 and 1210 by LAND are a stand alone oxygen analyzer systems which are sturdy and reliable for net oxygen and can be put to use in industry-proved zirconium oxide sensor technology. It has a simple user interface, ...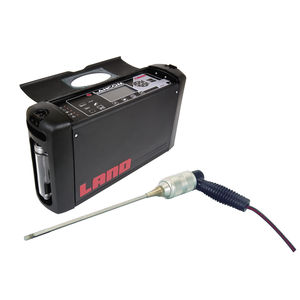 emission analyzer
max. 4 000 ppm, RS232, RS422 | Lancom 4
The Lancom 4 Portable Gas Analyser has the capacity to permit data capture, storage, analysis and presentation of measurement information in a simple Windows™ based program that works on any computer. It has the ability to pass all the ...

flue gas analyzer
max. 2 000 ppm | FGA series
Boasting dual sensor technology, the FGA 900 range of Stack Gas Emissions Analyzers by Land Instruments is an ideal tool for measuring levels of oxygen, carbon monoxide, and nitrogen oxides in flue gas. The unique measurement ...

Konica Minolta presents the CA-2500 2D color analyzer which caters to projectors, LCD's, backlights and measures two-dimensional luminance distribution. By its superb chromaticity distribution of various displays, it's ...

Konica Minolta CA-310 display color analyzer is ideal for measurement of LED-backlit LCD display. It minimizes errors caused by fluctuations in the peak wavelength of LED backlights. It can provide fast measurements ...

particle size analyzer
ZEISS Particle Analyzer
To reduce quality control in conventional industrial tasks, we bring you the ZEISS Particle Analyzer. This is a lightweight microscopy system of choice is suitably used for continuing dirt analysis and quality control ...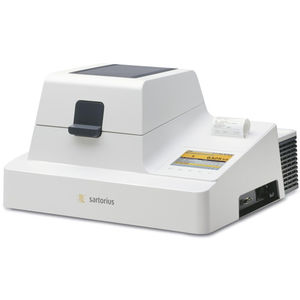 humidity analyzer
8 - 100 % | LMA200 series
The LMA200 humidity meter is designed to analyze moisture in both liquid and pasty samples with moisture content ranging approximately 8% to 100%. The unit utilizes microwave drying, producing results up to 300 times ...

humidity analyzer
0.001 - 100 %, 35 - 100 g | MA series
The family of AA dampness meter is intended for dampness investigation in everyday schedule laboratory uses in research and development in addition to process and quality control. Sartorius presents an extensive variety of dampness meters, ...

humidity analyzer
MA-Mark-3
The standard of process of the Mark 3 Moisture Analyzers is failure on ventilation. The tool finalizes on a planned tempo of weight change contrasted to the real initial weight of the trial over a planned window of instant. ...
How to choose this product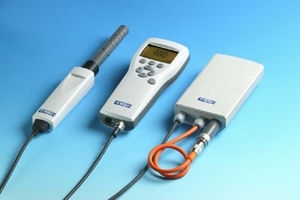 An analyzer is an instrument with a variety of uses. It can perform qualitative analyses of compounds or identify the constituents of a substance. It is also employed for quantitative analyses and to monitor chemical reactions.
Applications
These devices can analyze a wide variety of gases, liquids and solids. The different types of analyzer include fixed, portable and in-line models.
Technologies
Test methods vary with the substance to be analyzed. Some measurements are destructive, others not.