How to choose this product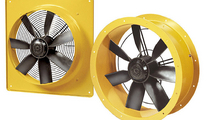 An axial, or helical fan has blades which rotate around a shaft which is parallel to the flow of air it produces. Its round or square housing can be of different dimensions.
Applications
These fans are common in industrial aeration. They also are used for the convective cooling of electrical and electronic components, including processors, and in home ventilation and cooling.
Technologies
The fan blades are turned by a brushless DC motor or an asynchronous AC motor. Unlike centrifugal fans, axial models do not operate at high pressure, but offer constant flow. These fans are mounted in an air duct, a wall or partition. A bell mouth and a diffuser enhance air flow and reduce noise. Output can be improved by using a turbine wheel at the upstream or downstream guide vanes. Some fans have two counter-rotating sets of blades, while others offer enhanced performance by changing the angle of attack of the blades.
How to choose
Choice will depend on nominal output flow, noise level, size, power consumption and voltage. Aeration fan selection is determined by the operating curves of the various models.
Advantages
- Easy installation
- Constant output
Disadvantages
- Low-pressure operation only