How to choose this product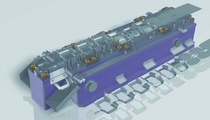 CAD (computer-aided design) software permits 2D and 3D product and process modeling, and precise visualization of a project idea or concept before its real-world production or construction. It also provides the opportunity to optimize technical parameters such as material strength, stress and heat dissipation characteristics.
Applications
These programs are used in architecture, public works and infrastructure development, technical data management, industrial design and dynamic product simulation.
Technologies
Basic CAD software offers independent 2D and 3D design capability, as well as design visualization including simplified views during development, object manipulation and representation of the finished product. The import and export of such models enable the integration of the objects into more complex designs. There are different programs available for mechanical engineering, architecture, electronics and other disciplines.

Basic versions can be augmented by complementary plug-ins for advanced analysis, simulation and other functions. Such modules are available from the original software manufacturer or from third-party suppliers.
How to choose
Choice from among the many effective programs will depend on intended use, available functions and file types to ensure compatibility with client and supplier files.
Advantages
- Permits digitization
- Simplifies improvements
- Increases storage capacity
- Facilitates file sharing