The Online Industrial Exhibition

Flow rate: 25 m³/h - 2,200 m³/h
... price for worldwide customer satisfaction. Water Separators Hertz water separators have been designed for the removal of bulk liquid water and particulate from compressed air and gases. Unique centrifugal ...

Flow rate: 85 ft³/min - 1,695 ft³/min
Bulk liquid removal Super-Dry Water Separators have been designed for the efficient removal of bulk liquid contamination from compressed air. Features: • Up to 1695 scfm • Heavy duty housing for high durability • ...

centrifugal separator
STH/SFH series
Width: 148 mm - 660 mm
Flow rate: 0.014 m³/s - 1.618 m³/s
PED approved centrifugal high pressure water separators with low pressure drop for the removal of bulk condensate water from compressed air in industrial applications.

centrifugal separator
OSS
Flow rate: 30 l/s
An oil water separation solution for low flow applications that disposes of oil in compressor condensate in a safe and environment-friendly way.

Flow rate: 500 ft³/min
The Kaeser Condensate Filter (KCF) is a convenient and economical way to handle contaminated compressor condensate in most small to midsize systems. The easily-removable cartridge separates the oil from the water. The water can be discharged ...

classifier separator
picosplit
Filtration size: 2 µm - 120 µm
Flow rate: 20 m³/h
The picosplit® ultrafine classifier by Hosakawa Alpine is used for the classification of dry powders by particle size. In order to classify ultrafine powders, this uses the separation range 2µm-120µm It has grinding and ...
See the other products
HOSOKAWA ALPINE

Flow rate: 0 m³/min - 54 m³/min
Racor Moisture / Ember Separators provide critical protection of fire suppression equipment by preventing flying embers and water from entering the engine air intake and damaging downstream air filters.

cyclone separator
75 / 12
... freestanding 75/12 cyclone is 75 inches long for installing in a typical suction-blast. For standard installation in a pressure-blast, the cyclone stack-up featuring a small-sized pressure vessel is 138 ...
See the other products
GUYSON

... Mathena™ high-volume mud-gas separator vents the "free" gas at a safe distance from the rig to the gas vent line igniter, while returning the drilling fluid to the active system in a controlled flow.Mathena™ mud-gas separator ...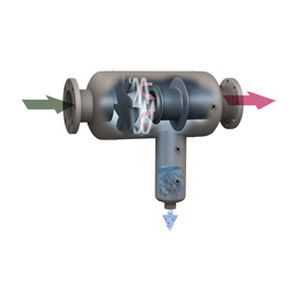 centrifugal separator
30L series
Filtration size: 10 µm
The Eaton Type 30L is an automatic gas liquid separator that eradicates 99% of all liquid and solid entrainment particles that are 10 microns larger. This device comes in a portable design and requires zero maintenance. ...
See the other products
Eaton Filtration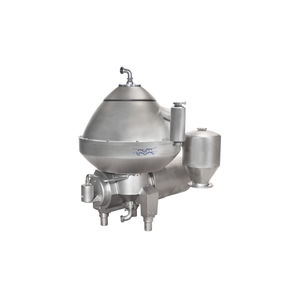 centrifugal separator
AFPX series
Flow rate: 3,000 l/h - 40,000 l/h
AFPX separators are high-capacity solid-ejecting centrifuges ideal for working with high solid amounts at high temperature and high flow rates. The AFPX centrifuge utilizes centrifugal force for separating ...
See the other products
Alfa Laval

centrifugal separator
Bactofuge unit
Flow rate: 5,000 l/h - 55,000 l/h
Tetra Pak® Bactofuge unit UNITS FOR REMOVAL OF SPORES AND BACTERIA, OR CONCENTRATION OF PROTEIN Excellent product quality since hermetic seals prevent intake of destructive air AirTight technology enables superior spore and bacteria removal ...
See the other products
Tetra Pak

air separator
OSC, OSD series
Flow rate: 17 l/s - 6,895 l/s
The Atlas Copco OSD and OSC separators are made to manage condensate and will keep oil from water in any condensate. This is made with a drained setup that works to where oil is disposed of in a safe manner. This is used ...

centrifugal separator
+150 °F, max. 300 psig
Liquid Separators For compressed air systems where excessive free liquid and solid contamination is a problem, choose Gardner Denver Liquid Separators. Our unique design combines the techniques of centrifugal ...

centrifugal separator
PureSep - MS
Flow rate: 4.2 m³/min - 640 m³/min
... pipe system. The PureSep - MS condensate separators represent a very effective solution for this type of problem as they remove much of the liquid condensate present in the compressed air system. The MS separators ...
See the other products
MTA

circular separator
QuickChange NV
Non-Vibrating QuickChange For customers who do not have compressed air available, SWECO offers the QuickChange NV.The QuickChange NV also reduces screen changing to a one-man operation. This non-vibrating design utilizes a set of closed ...
See the other products
SWECO

air separator
M.E. series
Width: 318 mm
Flow rate: 1,000 m³/h
AIRMEX M.E. the oil mist separator that works! We deal every day with all kinds of exhaust systems. For our oil mist separators, we tried to find a device that offers the best price-performance ratio ...
See the other products
AirMex

cyclone separator
BTUX 305
Flow rate: 2,000 l/h
The BTUX 305 pilot separator is suitable for feed rates up to 2000 l/h, is available in a variety of configurations and therefore can be adapted for virtually any application. Suitable for hazardous materials, as it ...

centrifugal separator
VP/VDR 113/70
Width: 1,300 mm
The SHAKEOUT performs the delicate task of separating the sand from the casting after the automatic forming plant. The choice of oscillation parameters, and of the screening deck, are essential for separating the sand without damaging ...

centrifugal separator
SC-3500
Flow rate: 3,500 l/h
Vertical centrifuge for the olive oil clarification by the elimination of the eventual solid particles and water droplets. The separator is equipped with an electronic system for the starting and the speed control, and ...

... available for customised solutions: Multi Functional Separator SP-MF Suction of BLENDOMAT BO-A Heavy part separation Metal separation Dust removal/air separation Waste feeding Metal Separator ...

cyclone separator
ZY series
... shown: ZY62) is available in three basic versions: ZY61: cyclone separator with replaceable insert made of elastomer or ceramic ZY62: cast version of the cyclone separator ZY203: ...
See the other products
EagleBurgmann

Filtration size: 90 µm - 200 µm
Flow rate: 3 m³/s - 101 m³/s
RTKM Separator The most efficient separator for new and old coal grinding ball mills Key features and benefits The most effective choice for new coal-grinding ball mills Ideal solution for ...
See the other products
FLSmidth Dorr-Oliver Eimco

centrifugal separator
PKB series
Flow rate: 300 l/h - 1,000 l/h
Chamber bowl centrifuges are used for polishing liquids in the chemical and pharmaceutical industries, particularly when, in addition to the clarified liquids, solids must be simultaneously recovered and/or must be obtained in the form ...
See the other products
GEA Westfalia Separator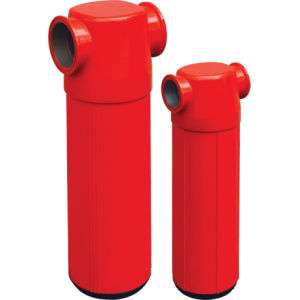 electrostatic separator
GWS Series
Flow rate: 25 m³/h - 2,200 m³/h
Mikropor water separators have been designed for the removal of bulk liquid water and particulate from compressed air and gases. Unique centrifugal action removes contaminants at low-pressure drop for ...
See the other products
Mikropor