How to choose this product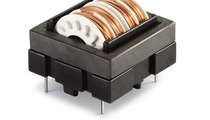 A choke is a passive inductor in coil form which blocks high-frequency alternating current while allowing low-frequency AC and direct current signals to pass.
Applications
Chokes are used to filter electronically-induced high-frequency interference in a circuit or in the regulation of industrial electrical installations.
Technologies
Chokes consist of insulated copper wire wound around a core, which can be a ferrite torus, laminated metal or an air core (devoid of material). Low-power chokes can be surface-mounted devices (SMD) or have through-hole leads. Axial or radial ferrite bead cores have holes through which a wire is threaded several times.

Common-mode chokes prevent current from being grounded. They have two coils on a single core, constituting a transformer. High-power chokes are single- or three-phase. They limit current flowing through capacitors used for reactive energy compensation in electrical machinery.
How to choose
Choice will depend on the choke's inductance value, its series resistance, its maximum permanent current capacity and its thermal qualities (for high-power applications).