How to choose this product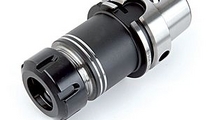 Collet chuck holders are special tool holders which use collets to hold the cutting tools in place. They should not be confused with collet chucks, which are mounted on lathes to hold workpieces in place.
Applications
These devices are used on lathes and milling machines for cutting applications. They are suitable for drilling, milling, tapping and boring.
Technologies
Such holders use the collet, collet nut and the tool holder to properly secure the cutting tool. As the nut is screwed on, it compresses the collet spring onto the cutting tool.
How to choose
There are many different types of collet designs used in the metalworking industry. When selecting a collet chuck holder be sure to specify both the collet type and the machine's spindle type (BT, ISO, CAT®, HSK, etc.).
Advantages
- Low cost
- Modal stiffness