The Online Industrial Exhibition

electronics counter
GC-12
GC-12 component counter is a reliable and easy-to-use reel system for any Axial, Radial or SMD device. Four (4) digit LCD display Forward / Reverse function makes counting foolproof Counts taped SMD, Axial and Radial ...
See the other products
APS Novastar

binary counter
DC50 series
The DC50 series counter has frontal dimensions of 48 x 48 mm (1/16 DIN 43700). This digital counter has multiple functions, being utilized for metering the functions of pulses, frequency, totals, distances, ...
See the other products
Thermosystems

cell counter
Somacount FCM
The Somacount FCM delivers the ultimate efficiency and accuracy in early mastitis detection. This instrument provides a rapid and accurate count for the SCC (somatic cell count) in dairy milk. This instrument represents the latest in ...
See the other products
Bentley Instruments

binary counter
354C series
... unlimited life expectancy. The 354 achieves high reliability and surpasses previous Shawnee counters. Cycle process indication Shawnee 354 indicating counter facilitates the cycle progress indication ...
See the other products
Marsh Bellofram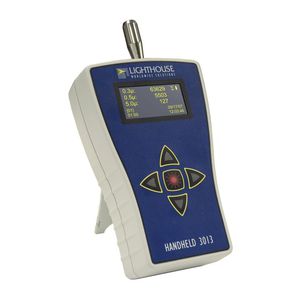 airborne particle counter
HANDHELD 3013
Using an ergonomic and lightweight design, the Lighthouse Handheld 3013 is ideal for use where a smaller lightweight handheld counter is needed. Offering 3 channels of simultaneous particle counting, the Handheld 3013 ...
See the other products
Lighthouse Worldwide Solutions

counter
24 - 240 VAC | KSPUA8C
... is a factory programmed module available in any 1 of 14 standard functions. The KSPU offers a single adjustable timer or counter function. Switch adjustment allows accurate selection of the time delay or number of counts the ...

alpha-beta counter
АТ1319
... sources. The following design variants are available: ▪ АТ1319 Sample Counter (alpha beta) ▪ АТ1319А Sample Counter (alpha) ▪ АТ1319B Sample Counter (beta) OPERATING PRINCIPLE Sample ...
See the other products
Atomtex

colony counter
colonyQuant
software for selection according to colour, size and shape l light-proof sample chamber with CCD-Firewire-camera (colour) l image acquisition and simultaneous evalution within seconds l tables and images may be stored digitally l ...
See the other products
schuett biotec GmbH

digital meter
max. 200 kV | Static Meter I
The Static Meter I electrofieldmeter is a small hand-held field strength meter with digital display for measuring electrostatic charges in Volt. It perfectly combines easy operation with accurate measuring ...

This laser diode and isokinetic particle counter will classify particles by size (2 channels) after one minute of sampling (other time periods can be set).It can be used for checking clean rooms, hospitals, nurseries, ...
See the other products
Cleanair Europe

colony counter
Quebec® Darkfield
The Reichert Quebec® Darkfield Colony Counter allows you to easily and accurately count bacteria colonies. It comes with an adjustable dish holder that can accommodate round dishes with diameters as small as 100 mm, and ...
See the other products
Reichert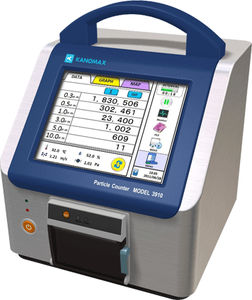 airborne particle counter
ISO21501-4, ISO 14644, FS 209E, BS 5295, EC GMP | 3910/3905
The 3910 50 LPM model, and the 3905 1CFM model are manufactured by Kanomax, and is a portable particle counter that complies with the ISO 21501-4 and 21 CFR Part 11 standards. The units have a compact, and lightweight ...
See the other products
Kanomax USA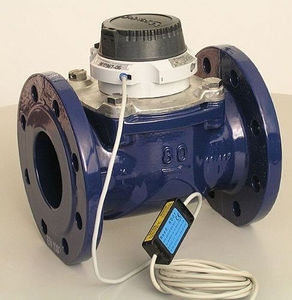 The counters in the WP series are suitable dosage and totalisation of industrial waters. diameters DN40 - DN400 pressure from PN10 - PN40 flow rates from 0.8 to 3.000 m³ / h AF up to 50 °C AC up to 90 °C special versions ...
See the other products
Craind Impianti

tachometer counter
CounterView®
... Progressive's patented R-Series CounterView counter to the mold, especially when space is a factor. The blocks can be attached to the mold or Guide Pin Blocks in either direction, using either the right or left round ...

... therefore centralized control and management by consumers. ● The meter operates with ultrasonic flow measuring technology. It can be mounted at different angles on pipe and no adverse effect on meter ...
See the other products
Huizhong Instrumentation Co.,Ltd.

particle counter
Dust Profiler
Dust Profiler - Dust and Particle Counter Aeroqual Cloud Dust Profiler Aeroqual Connect Benefits Simultaneous measurement of PM10, PM2.5, PM1, AND TSP. Measures and reports data in 1 minute intervals Respond ...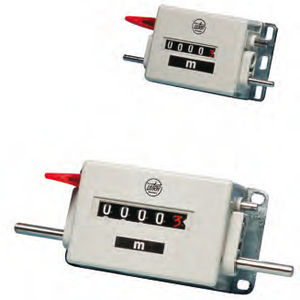 tachometer counter
2119 20x series
Zero setting with lever Lever pluggable at left or right Addition in one direction, subtraction with reverse turn ABS housing, mounting plate steel Delivered in individual packages without measuring wheel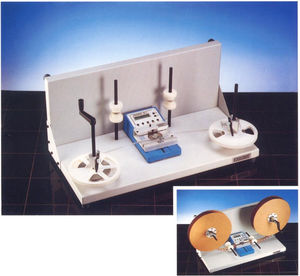 electronics counter
Ebsomat 30-1
... 2008 with new feature of a multiplier to count taped SMD component with sizes of 0402 or even 0201. Furthermore has the EBSO counter new machine diagnostic features and is easier to operate. Capacity and Equipment - ...

BAUSER hour counters electromechanical - the classic models always up-to-date With our well-known and rapidly mountable counters operational and service hours can be reliably registered improving ...
See the other products
BAUSER

... meters, temperature transducers, heat calculator), produced by various manufacturers. In 2004 the heat meter "PRAMER-1XX" was certified. Heat meter "VEPS-HEAT" was one of the first certified in accordance ...

hour counter
UIS-E series
E-line hour meters show operation time of machines, equipment and other devices. When you need accurate information for testing, maintenance or warranty purposes, choose from our wide range of ELEQ hour meters.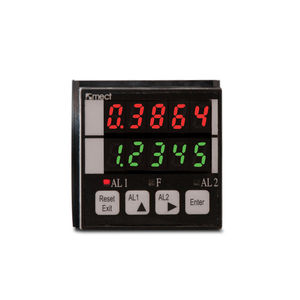 The MPCT20 M1 model is a programmable instrument with uni-directinal pulse counter, rpm meter, frequency meter, hourly production meter or timer. The instrument offers the following functions: - double ...
See the other products
MECT SRL

... is a handheld static electricity meter used to measure the magnitude and polarity of static charge on objects or surfaces. It is typically held 1 (25 mm) from the test surface. On metallic or conductive surface, the meter ...
See the other products
AlphaLab Inc.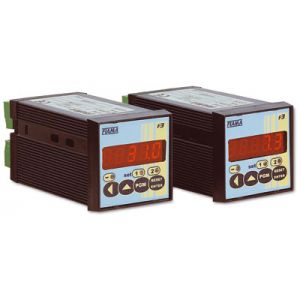 The F3X instrument is a mono-bidirectional display unit with microprocessor with five-digit with sign display (reading scale ± 99.999). It is particularly suitable for the measurement of linear and angular dimensions with signals supplied ...
See the other products
FIAMA

... time-triggered reports with information about the current counter states by FTP or by mail for example. The browser-based operating software for the device's own Web server allows you to always keep the counter ...