How to choose this product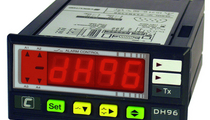 A digital display provides numeric information, often serving as an interface and a measurement transmitter, as well.
Applications
These devices are often used to visually indicate numeric values in process control.
Technologies
Such displays usually use LEDs. The numbers are composed of seven segments and sometimes consist of a dot matrix. In process control, they often act as measurement transmitters. Voltage, current and resistance inputs can be linked to sensors. Some models have specific inputs for thermo-resistive or thermocouple sensors with linearization or cold welding compensation. They also can act as counters and can be programmed with alarm trip-points.

Transmitter displays are powered by the data transmission current or by the electrical supply. They have an Ethernet, Modbus or Profibus network interface or an RS485 serial interface. The display can be built into the front of a device, usually using 1/8 DIN format, or mounted on a DIN rail. Giant models are available.
How to choose
Such devices are characterized primarily by the number of digits they can display. Choice also depends on available measurement inputs, range of values, networking method and the unit's specific functions.