How to choose this product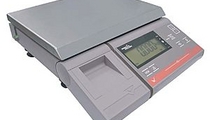 Electronic scales are strain-gauge based weighing scales that use a small microprocessor-controlled indicator.
Applications
Electronic scales have become the most common type of scale found in industry today. They are used in laboratories, food processing applications, logistics and general industrial weighing applications.
Technologies
Electronic scales use a strain-gauge load cell which creates a varying electrical signal as weight is applied. Under this technology, the weight is electronically sensed by the load cell and the information is transferred through digital signals to the LCD display. The user can then calibrate and control the electrical signal for other weighing operations.
How to choose
When selecting an electronic scale, the capacity, resolution, weight and size of the weighing samples should be considered. Be sure to specify the type of additional functions you would like to have, such as counting, percentage weighing and density.