oil filtration unit
20 - 150 l/min | MPF
Voltage: 230 V
Filtration size: 25 µm
Operating pressure: max 5.0 bar
The best in off-line filtration and oil transfer without foam and air emulsified, is a small sized and lightweight unit with compact design. It is easy to operate in all situations, even in smaller spaces. ...

filtration unit
max. 1000 m³/h, 2 700 Pa | GL400 ZA
Features: Energy-saving, high-performance, quiet Upgradable with different filter modules Adsorbtion of gaseous pollutants by two-stage filter Easy filter change High-performance electronic ...

activated carbon filtration unit
GCC
... GCC carbon active cartridge filter absorbs the VOS (volatile organic substances). There are two stages of filtration, where in the first stage, the stiff pocket filters with F6 efficiency (EN 779) are ...

activated carbon filtration unit
GCS-s500
... carbon filters. The filter comprises of a 510 mm thick, filtering septum. This septum enables the achievement of very high contact times. Loading of carbons is done via the roof using a hatch. This hatch ...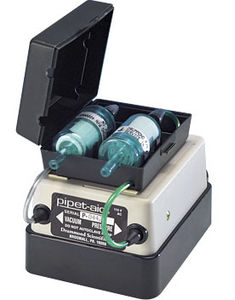 laboratory filtration unit
Pipet-Aid®
For use in a biohazardous environment, a filtration unit can be installed on the Pipet-Aid pump which will filter both vacuum and pressure lines. Incorporating dual filters, the Pipet-Aid Biohazard Filter ...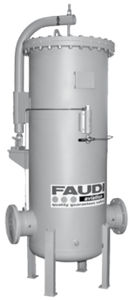 fuel oil filtration unit
max. 16 000 l/min | MF series
... wherever there is a demand for high quality, economic and reliable fil - tration. They are designed to continuously remove fine particles such as rust, dirt, sand and pipe scale from Aviation Fuel systems. These highly ...

breathing air filtration unit
15 - 940 scfm | Del-Monox®
The Del-Monox® air purification systems provide a highly effective means to control exposure to respiratory hazards in the work place. For more than half-a-century workers around the world have experienced the benefits of the Del-Monox® ...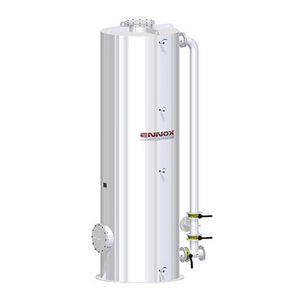 activated carbon filtration unit
ACF
... The majority of the hydrogen sulphide gas can be effectively removed by using an ennox active carbon filter ACF. In addition, the active carbon filter can be used for the removal of damaging siloxane ...

air filtration unit
DS series
The main purpose behind the DS Series Air Cleaning System is to remove exhaust emissions, fugitive dusts and several other airborne contaminants emitted from firehouses and other municipalities. This system starts automatically with ...

modular filtration unit
3 000 - 10 000 cfm | FW60x4
... air filtration industry, providing practical modular "side and back-draft" style filter walls. The three stage filtration design gives the flexibility to properly select the right media ...

air filtration unit
3 500 - 4 500 cfm | AZTech EB series
Version EB56 series packaged air filtration unit offer exceptional solutions for handling commercial air and cleansing requirements. This mechanism is engineered for fusing smoke, fusing fumes, grating dirt or other ...

water filtration unit
LIQUI-FLUX® W series
... this, the items are often regarded as an alternative to conventional treatment steps, including sedimentation, multi media filtration, flocculation and others. It's able to remove suspended solids, turbidity and pathogens ...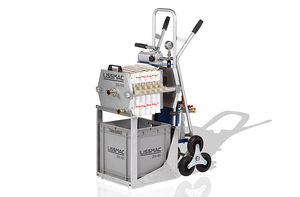 sewage filtration unit
SFA 400
... the filter unit SFA 400 Mobile one-man sludge filter press Aluminium sack trucks (steps up to 22cm are not a problem) Space saving transport dimensions Lightweight The filter ...

hydraulic filtration unit
SFA 900
... continuous use Einfache und schnelle Reinigung der Anlage Simple and fast cleaning of the filter unit SFA 900 For stationary or mobile use Large-sized filter unit ...

air filtration unit
MED, MED+ series
Operating pressure: 108.8 psi - 188.6 psi
... MED+ series of medical air purifiers provide solutions for the needs of the patient care sector for sterilized and purified medical air, which are for operating rooms and hospital beds. This series utilizes a unique ...

air filtration unit
MED, MED+
Operating pressure: 0 Pa - 13 Pa
Flow rate: 7 l/s - 145 l/s

activated carbon filtration unit
KBS series
Operating pressure: 100 psi
Kaeser Breathing Air System (KBS) is useful in removing contaminants such as moisture, solid particles, oil/oil vapors, carbon monoxide and hydrocarbons from normal compressed air. KBS meets international standards such as OSHA, CSA, ...

breathing air filtration unit
Ultrapure ALG20
This portable ALG20 breathing air unit has great utility when there in intense contamination of air during various working processes. This device works under the formula of three-phase filter stage for ...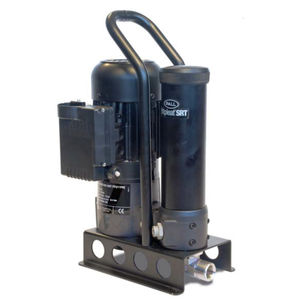 portable filtration unit
Ultipleat® SRT PFU series
Operating pressure: 10 bar
Flow rate: 13 l/min
... Pall Portable Filtration Unit Ultipleat® SRT PFU Series is a product of ingenuity and brilliance. It features Pall Ultipleat® SRT filtration technology , Low noise level , compact and portable unit, ...

whey filtration unit
Alcross® NF
Tetra Alcross® NF Tetra Alcross® NF is a nano filtration unit designed for continuous concentration of dairy products prior to transport or further processing. Typical applications are concentration of whey, UF permeate, ...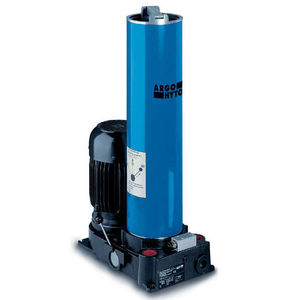 oil filtration unit
max. 4 bar, max. 45 l/min, max. 5 000 l | FNA 045
Operating pressure: max 4.0 bar
Flow rate: max 2.7 m³/h
The FNA 045 Off-line Filter Units of Argo Hytos is specifically used in the off-line circuits of hydraulic and lubricating oil systems. It has an operating pressure of up to 4 bar (58 psi), a nominal ...
See the other products
ARGO-HYTOS

oil filtration unit
max. 8 bar, max. 40 l/min, max. 5 000 l | FNA 040-553
Operating pressure: max 8.0 bar
Flow rate: max 2.4 m³/h
The FNA 040-553 off-line filter unit features an operating pressure of up to 8 bar or 116 psi and a nominal flow rate of up to 40 l/min or 10.6 gpm. The product can hold up to 5000 l of tank volumes. ...
See the other products
ARGO-HYTOS

breathing air filtration unit
DAP series
Filtration size: 1 µm
Flow rate: 0.15 m³/min - 13.33 m³/min
The groundbreaking KAESER breathing air system properly treats compressed air to make it useful for breathing. This system guarantees pure air is obtained by following five stages of treatment. It utilizes a Series FC prefilter to remove ...

oil filtration unit
max. 15 l/min, max. 4.5 bar | OF 5 mini
... offers customers an extensive product range of professional solutions. These were created to be used in the bypass flow filtration systems of hydraulic and lubrication media. Bypass flow filters and simple retrofitting ...

oil filtration unit
5 - 15 l/min, max. 10 kW | UKF-1
The compact UKF cooling filter circuit in the bypass flow unit is easily installed. Prolong the life of the oil in a hydraulic system and the system itself with constant cooling and filtration ...

breathing air filtration unit
BA-2010, BAP-2010
... assembled to boast of functionality and reliability. It is mainly used when the user must enter a confined space. This portable unit is designed for field service, being completely pneumatic in operation and incorporating ...