How to choose this product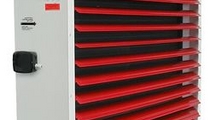 A hot water air heater is a central heating apparatus that circulates hot water through a heat exchanger to heat ambient air in a large industrial or commercial space. It is fed by a central boiler or other source of hot water.
Applications
Air heaters are common in many different kinds of buildings. Hot water models are especially suitable for warehouses or in ATEX spaces, where there is risk of explosion.
Technologies
A blower forces air through a heat exchanger holding a coil, through which the hot water flows. Once heated, the air is blown out so as to favor mixing and avoid thermal stratification. The hot water is produced in a central boiler feeding the heater circuit. Reversible models use a heat pump to produce hot or cold water.
How to choose
A thermal study of the building will indicate the needed power and air flow. Other criteria include the building's layout, its use and comfort parameters, such as output temperature, noise level and air currents created.
Advantages
- Suitable for ATEX applications
- Reversibility
Disadvantages
- Requires a central boiler