How to choose this product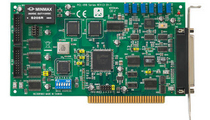 An ISA card is a computer expansion card. While data transfer capability is limited, it is inexpensive and suitable in many different roles.
Applications
These cards are still used for industrial tasks in which data transfer rate is not a critical factor. This economical technology is found in data acquisition, as a fieldbus interface or for motor or process control.
Technologies
The most recent ISA AT models have a 16-bit, 8.3 MHz bus. It has a theoretical 8 Mbps maximum and can exchange data by direct memory access (DMA) in bus mastering mode. Eight-bit cards use a 62-pin connector, while 16-bit versions have a 98-pin connector. Mother board AT slots accept eight-bit cards. The card's male connectors are printed on both sides of one edge, which slides into the motherboard's black slots.

ISA has been replaced by the faster PCI standard. The manufacturer supplies the driver specific to each card, but since Windows Vista, Microsoft operating systems no longer support the ISA bus.
Disadvantages
- Limited transfer speed
- Increasingly obsolete