How to choose this product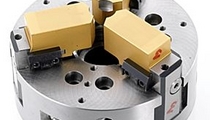 Lathe chucks are used to clamp workpieces in place for lathe turning operations. They come in different sizes and clamping types, to adapt to the workpiece.
Applications
These devices are used on all types of lathes, including CNC, conventional, Swiss and mini-lathes, for facing, grinding, boring, drilling, reaming and finishing.
Technologies
The number of clamping jaws on lathe chucks varies from two to six, or even more for specific applications. The most common type is the self-centering three-jaw chuck, used to rotate cylindrical parts. Chucks can be manual or opened and closed by a pneumatic or hydraulic system.
How to choose
Choice of lathe chuck will be determined by the type of workpiece. The chuck's maximum and minimum diameter, its material and form also should be considered, along with lathe type and required rotational speed.