How to choose this product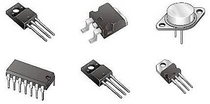 A linear regulator is an electronic component which supplies a constant output voltage despite variable load and input voltage. Its traditional configuration is a three-lead device in a TO-220 package.
Applications
These devices are used to stabilize voltage in integrated circuits as part of a regulated DC load.
Technologies
Linear regulators typically use a bipolar transistor Darlington structure between the supply and the output. They regulate output voltage by varying resistance as a function of an internal voltage reference and a set point. This structure constitutes a closed-loop control system.

Output voltage can be fixed or adjustable, positive or negative. The addition of filter capacitors enhances the stabilization. A heat sink is used if there is a significant difference between the voltage and the current.

Low dropout (LDO) regulators are used when there is a small difference between supply and output voltage, for example in DC-DC conversion for processors and other noise-sensitive logic circuits.
How to choose
Choice will depend primarily on power and fixed or adjustable output voltage stability. These factors determine the need for filter capacitors or a heat sink.