How to choose this product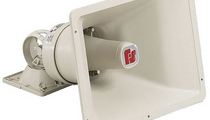 A loudspeaker is an electromechanical transducer that transforms an electrical signal into an acoustic wave. Three types exist: cone or horn electrodynamic, electrostatic and piezoelectric.
Applications
Other than audiophile applications, loudspeakers are used in telephones, intercoms and other devices used for vocal communication. They also are used in industrial public address systems. They often have a safety alarm function.
Technologies
Electrodynamic loud-speakers are the most widespread type. A mobile coil placed within a magnetic field is set into motion by the applied electrical signal. This moves the attached membrane, generating a sound wave.

Cone speakers are a well-known electrodynamic type. Most small speakers are of this variety. Wall and ceiling models are readily available.

Dynamic loudspeakers are used for public address systems. Often referred to as pressure chamber loudspeakers, they offer optimal high-frequency reproduction and are more directional. Public address installations use the 100-volt line technique to avoid losses in the cables. Loudspeakers can be connected in parallel and have independently adjustable volumes. They are often certified to be explosion-proof.
How to choose
Output power (measured in watts or dB at one meter), output impedance, line voltage and certifications will determine choice.