How to choose this product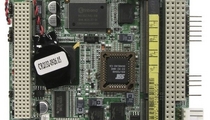 The PC/104-Plus standard combines the form factor of a PC104 with a fast PCI bus. These modules are compatible with the PC/104 standard, but data transfer is faster.
Applications
The incorporation of this standard makes it possible to create modules that are compact, robust and efficient. Embedded industrial uses include data control and acquisition. It can take the form of a single board computer, a video interface, a LAN card, an Ethernet, Profibus or other fieldbus interface, an adapter or a PCI bridge.
Technologies
The main specifications of the PC/104 are retained. The 90 x 96 mm modules can be stacked to create shock- and vibration-resistant assemblies. Four mounting holes are present at the board's corners. Power consumption and generated heat are minimal. It is PC compatible, reducing development costs and time-to-market.

PC/104 modules can be mixed with PC/104-Plus modules on a same stack. PC/104 connection format is maintained, ensuring vertical continuity of the ISA bus, while a high-density 120-pin connector is added to the other side of the board for the 32-bit PCI bus.

The space between the modules is usually 15.24 mm (six inches), enabling up to five PC/104-Plus modules to be stacked. The data rate reaches 132 Mbytes/sec for 33 MHz clock speed, consuming only three milliamps.
How to choose
Processor type, on-board memory, the specialized functions and the available ports will help to choose the appropriate PC/104-Plus.
Advantages
- Compact and robust
- Low power consumption
- Modularity
- Fast PCI bus