How to choose this product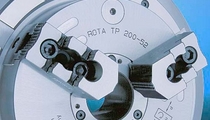 Power chucks are hydraulic or pneumatic lathe chucks used to hold workpieces in place for turning operations. The chuck jaws are moved inwards and outwards without manual intervention.
Applications
These chucks are found on computer numeric control (CNC) lathes, and can hold workpieces for any type of turning application. They hold alloy wheels in place for turning operations during production.
Technologies
Power chucks use different technologies in order to clamp or unclamp the workpiece. The draw-tube model uses a hydraulic or pneumatic tube to open and close the chuck jaws. Other types include counterbalanced, index and self-contained chucks.
How to choose
Be sure to determine information such as clamping force, rotary speed, spindle type and workpiece diameter when selecting a power chuck.
Advantages
- Automatic
- Reduced down-time
- Self-centering