How to choose this product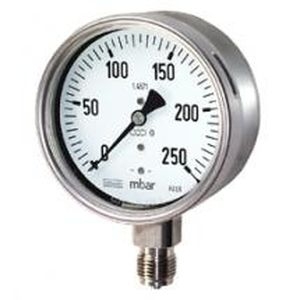 A pressure gauge is an instrument which measures the absolute, relative or differential pressure of liquids or gases.
Applications
These gauges are used in industrial processes involving fluids, either liquid or gas.
Technologies
Liquid column pressure gauges used in HVAC systems are precise but fragile.

Bourdon tube gauges have a fluid-filled tube closed at one end. As pressure changes on the fluid via the open end, the closed end moves in an arc. A connecting mechanism transfers this motion to the device's needle. They can measure pressure on non-viscous, non-crystallizing fluids up to four kilobars, but cannot measure rapid pressure changes.

Diaphragm models are for fluids up to 40 bars, and viscous or crystallizing fluids, so long as the reference face is open. Capsule pressure gauges are used to measure gases up to 600 millibars.

Absolute pressure manometers use a vacuum reference chamber to measure pressures to 100 bars, independent of atmospheric pressure. Differential pressure manometers feature two ports connected to sealed volumes separated by a capsule or bellows.

The gauge needle can be replaced by a transducer for remote measuring. Conversion can be potentiometric, capacitive, inductive, or use an extensometer or piezoelectric gauge. The two latter conversion techniques have good frequency response and require the use of low-noise connecting cables.
How to choose
Choice of a pressure gauge depends on its operating environment, including temperature, nature of the fluid, range and dynamics of the pressures to be measured and overpressure.