How to choose this product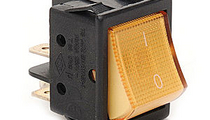 A rocker switch is a type of manual switch that uses a pivoting lever mechanism to open and close the contacts.
Applications
Rocker switches are found in many different styles and sizes for various electrical applications. They are commonly found on control panels for industrial equipment and machinery requiring manual operation.
Technologies
Rocker switches are available in different colors, sizes and shapes. Some are illuminated in order to facilitate certain operations. There are also sealed or waterproof switches for use in particular environments.
How to choose
Be sure to determine the maximum voltage and current of your electrical system when selecting a rocker switch.