How to choose this product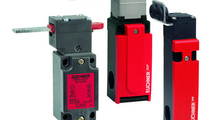 A safety switch is used to cut electric power to a sub-network or a load. It can also close or open a dry contact, starting from its free position.
Applications
These devices cut current to an electrical installation, indicate the opening of an access point or detect the proximity of an element in motion.
Technologies
Proximity switches are used to regulate electrically-controlled movement. One version has a lever terminating in a contact wheel. Another features a slide holding the mobile element whose movement is to be controlled.

Electrical power safety switches are easily activated without being susceptible to accidental tripping. They cut power by ensuring a clear separation between contacts. Some control power circuits. They have two possible positions, both clearly indicated. Switch position is changed by moving a lever or turning a knob. The switch can be protected by one or more padlocks. Some are controlled by cable.

Access monitoring models have two components. The first consists of two connectors and an NC contact, which opens if the second, magnetic element moves away. Wiring the switches in series creates a protected chain of closures. Certain models are RFID-coded for even greater security.