How to choose this product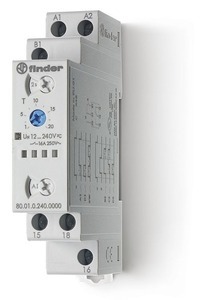 A time-delay relay switches only after a predefined delay established by the user.
Applications
This device is used when a time lapse is necessary between the control signal and the response. It comprises a traditional relay, usually solid state, with a timer.
How to choose
Choice of a time delay relay depends on the existing installation. It can be mounted on a DIN rail, or on front electric panels. Switching power and maximum allowable delays are important factors.
Advantages
- Programmable delay
Disadvantages
- Weak switch-off power