How to choose this product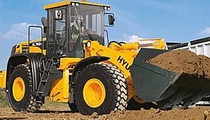 A wheel loader is a machine riding on wheels with an articulated chassis and arm assembly holding a large front-mounted bucket.
Applications
Loaders usually are used to move or load loose material (earth, gravel, debris, etc.) onto a truck or conveyor. Its wheels are designed to work best on hard, dry ground.
Technologies
Wheel loaders use wheels rather than tracks for locomotion. This gives them less traction, but greater speed and maneuverability, and avoids damage to pavement. A pivot powered by hydraulic cylinders allows the articulated chassis to turn. This directional system permits increased maneuverability and a sturdier front axle able to support greater weight.
How to choose
Choice of wheel loader will depend on three factors linked to the machine's size: its service weight, the power of its engine and its bucket capacity.
Advantages
- Speed
- Mobility
Disadvantages
- Less efficient on soft or muddy ground